China's CES Turned Into a Copycat Convention
Chinese Electronic Copycats Rear Heads At CES Asia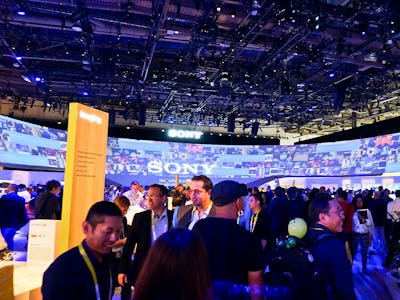 Flickr.com/Moto@Club4AG
The first International Consumer Electronics Show, which took place Monday to Wednesday in Shanghai, accidentally proved the point American companies have been making for years: Chinese companies are stealing American ideas. It's no secret that China produces knock-off electronics — it's so widespread as to have its own acronym, C2C, meaning "Copy to China" — but the dearth of original offerings from the land of Weibo on the showroom floor was apparently hard to ignore.
South China Morning Post's George Chen experienced this firsthand, with faux iPads, GoPros, and Google Glass:
"Another Chinese company had brought a wearable device to CES Asia which looked incredibly similar to Google Glass. I asked a salesman about the resemblance and he said: "Google can do theirs and we do our own. It doesn't matter…. Some attendees thought otherwise. During my short visit to the booth, I heard several people excitedly point out 'Google Glass' to their friends, only to have confusing conversations with the sales staff when they asked to try on the eyeglasses that display information on a small screen by your eye."
The salesperson's nonchalance, on some level, is indicative of the real issue: an apparent us vs. them mentality. The irony is that it will be harder for Chinese companies to remain blasé about knockoffs as large events move them toward the international market. CES Asia was supposed to showcase the evolution of a tech scene, but an Oculus Rift ripoff called "Brand" proves nothing except that the status quo won't stand.