Red Bull Skydiving Team's Active Volcano Wingsuit Jump Was Extreme, But Not as Extreme as You Think
How many cans of Red Bull does it take to jump into an active volcano?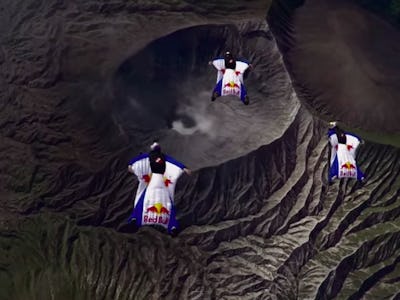 www.youtube.com
Made up of Marco Waltenspiel, Georg Lettner, David Hasenschwandtner, Dominic Roithmair, and Marco Fürst, the official Red Bull skydive team has logged over 16,000 jumps of relative extreme-ness across the globe.
Their latest jump was over Mount Bromo in Indonesia, which happens to be an active volcano that dates back 820,000 years. Pretty gnarly right? Well, kind of. Bromo is extremely active, and most recently erupted in 2011, but it's also a major tourist attraction in East Java's Bromo Tengger Semeru National Park.
The people who arrive via road rather than gravity come to check out the lava-related festival of Yadnya Kasada, during which hundreds of Indonesians throw offerings of vegetables, farm animals, and money into the crater as a sort of apology for no longer practicing human sacrifice.
The footage from the skydive is beautiful, but the "active volcano" schtick feels like geological profiling. Volcanoes can be nice places too, especially when they're reachable by regular bus service.