Lockkheed Martin KC-130 in Mississippi Crash Did Heavy-Duty Missions
The airplane is considered extremely safe and dependable.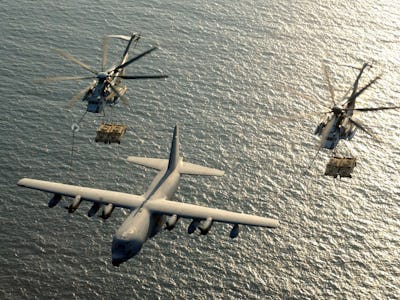 US Marines
A KC-130T military airplane crashed in Mississippi on Monday, killing 15 Marines and one Navy corpsman who had been traveling to Arizona for pre-deployment training. The cause of the tragedy is currently unknown; a statement released by the Marine Corps on Tuesday said that the military's "focus remains on providing the necessary resources and support to the family and friends of these service members as they go through this extremely difficult time."
The KC-130T is a variant of the transport Lockheed Martin KC-130 airplane and was first built in 1983. Only one Marine Corps reserve unit still uses this type, as most units have phased in the newer KC-130J model, but it is still considered an extremely safe and dependable plane.
"These birds are not so old that they need to be retired — at least, from the mechanic's point of view," a former Marine sergeant, Alan Stinar, told The New York Times. "These planes are extremely reliable, and we harp on their safety."
The long-range KC-130T is used to transport troops, cargo, and equipment, and has remarkable in-flight refueling capabilities. Here's a video of the refueling process:
Here's what that operation looks like from above; these are two CH-53E helicopters getting refueled by a KC-130:
The range of the KC-130T is 3,132 nautical miles; it's got an approximately 132.5-foot wingspan and a tail about 38 feet high. The plane's major contractors are Lockheed Martin, GE Aviation Systems, and Sargent Fletcher Inc.
This particular plane belonged to a Marine squadron in New York that is based at the Stewart Air National Guard Base. The crew took off in North Carolina and crashed in the Mississippi Delta; this map was provided by The New York Times:
The Marine Corps Reserve plans to tweet out updates about the crash here.