Can a Prison Rehab Inmates With Shirts and Ties?
Sometimes criminality is about how you see yourself.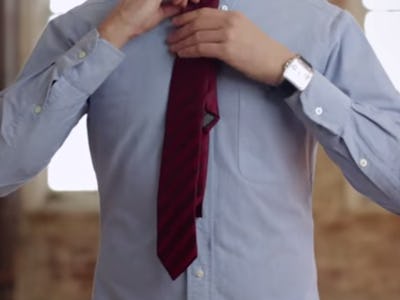 YouTube
It says something about our penal system when a program to help rehab inmates with drug and alcohol addictions by giving them a measure of dignity is considered newsworthy. But, Hampden County Sheriff Michael Ashe Jr.'s good press will get other institutions to consider the idea of positive reenforcement. Ashe is requiring inmates at his minimum-security substance abuse treatment facility dress up in a shirt and tie from 8 a.m. to 3 p.m. Monday to Friday. The idea? Alter the way they see themselves.
Though the Associated Press reports that the program has been in place since 2007, it has just now proven successful enough to spill over to the Western Massachusetts Correctional Addiction Center. 
There's solid research to back up Ashe's assumption that how a person dresses is going to affect how they behave. People are given to more formal speech when dressed formally, and described an uplifted image of themselves. Or, as one inmate serving ten months for an assault-and-battery related charge put it: "Wearing it on a daily basis made me feel a little better about myself. Basically, it's up to me if I want to change. It's time for me to step up."
Inmates have even taken to wearing the formal attire during visiting hours. It doesn't seem that much of a stretch to argue that a kid visiting dad in prison will be able to cope with it a little better if their old man is dressed for the office instead of an orange jumpsuit. That's good for the children, who presumably did nothing wrong.
Dressing inmates to alter behavior has been tried before, but usually it's aimed at making them docile through humiliation. Thanks to Ashe for flipping this tired formula on its head.