High Valyrian from 'Game of Thrones' is Duolingo's Newest Language
by Monica Hunter-Hart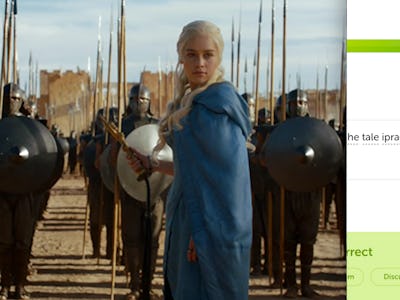 HBO
HBO's Game of Thrones would not be nearly as epic without the bewitching languages created by linguist David Peterson. On Thursday, the popular language-learning app Duolingo will launch a course in the coolest tongue of them all: High Valyrian, from the Valyrian Freehold on the continent of Essos, which is spoken by many of the show's power players.
With the course, you'll be able to learn phrases like "All men must die" ("Valar morghulis") and "I smell my drunk uncle" ("Ñuhe averilloma kepe ykynan"); both useful.
Duolingo is timing the launch with the premiere of the show's seventh season on Saturday.
"Learning High Valyrian just in time for the new Game of Thrones season will help millions of fans connect with each other and with the show and its characters on an entirely new level," Myra Awodey, Duolingo's Lead Community Specialist, tells Inverse. "That's what language learning is all about!"
It's a good point. If two Game of Thrones fans meet each other and can simultaneously recite Daenerys' legendary speech from "And Now His Watch is Ended" — when she (spoiler ahead!) fools a slave master into thinking she doesn't know High Valyrian and then speaks the language to administer his death sentence — they'll probably feel a special sort of affection for each other.
David Peterson approached Duolingo with the idea of making the course and built much of it himself. It's going to contain around 2,000 words (far less than the number of words in a real-life language, but around the same number offered in typical Duolingo courses, which don't bring students all the way to fluency).
The course is launching in a beta version and will initially only be available on the web. Duolingo will begin offering it for mobile apps at an unspecified later date.
"Our mission at Duolingo is to make it free, fun and easy for people worldwide to learn new languages, regardless of whether the language is real or fictional," Awodey says.
Imagine watching the next season without needing to read the subtitles when characters speak in High Valyrian.
Duolingo's High Valyrian course will probably launch on Thursday at 8 a.m. Eastern. Game of Thrones Season 7 premieres July 16 on HBO.
Update, July 13: The High Valyrian course has launched and is available here.