Brooklyn Baseball Team Is Wearing Special Captain America Jerseys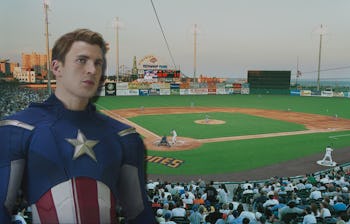 Getty Images/Marvel
Steve Rogers is, famously "just a kid from Brooklyn," so it's safe to assume that he was a big fan of the Brooklyn Dodgers when he was growing up back in the '30s and '40s. And if that's the case he was probably pretty bummed when he woke up after being frozen for 70 years to find that the Dodgers had moved to Los Angeles. And even though he likely became a fan of their spiritual National League successors, the Mets, who play in Queens, there's no place like home, so he's likely also a fan of the minor league Brooklyn Cyclones. And the feeling is mutual: the short season Class A baseball team is honoring Captain America by playing in special jerseys modeled after his superhero costume.
The Cyclones, a minor league team that happens to be affiliated with the Mets, play ball in Coney Island, at the very southern tip of Brooklyn. On Friday morning, the team tweeted that they'd soon be taking to the field wearing jerseys that resemble Cap's costume, with a star on the front and what looks like his iconic shield on the back. The Cyclones will wear the jerseys for their game on Sunday, July 2. Tickets are still available.
Given that Steve told Bucky during The First Avenger that he once threw up while riding the Cyclone roller coaster at Coney Island, the special jersey's are an especially fitting match. Also, it might help bring Captain America and Spider-Man together. Peter Parker hails from Queens, and the Cyclones are a Mets affiliate, so they're sort of on the same team. Maybe the pair will be able to move past their dust-up at the airport in Civil War and enjoy some peanuts and Cracker Jacks together.