5 Classic True Crime Thriller Shows You Can Stream Right Now
We've got some 'Unsolved Mysteries' for you to watch.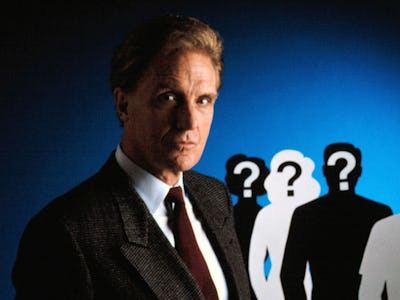 Amazon Prime
As entertaining and intellectual as modern true crime series have gotten, including Netflix's Making a Murderer and The Keepers, sometimes you just need a little nostalgia. The 1990s were prime for true crime television shows. Most of the true crime that came from that era was hilarious only because it was taken so seriously and done so poorly (by today's standards).
So, to satisfy your craving for true crime — because we know you already binged all of those aforementioned intellectual true crime documentaries — we put together a list of some of the best classic true crime available to stream online. The best of the best are on Amazon and Hulu. Sorry if you're lacking.
And if you don't have access to Hulu or Amazon Prime (not that anyone's really recommending this), you can type these titles into a search engine and come up with some interesting things to watch on Youtube or other sites. We're just saying.
Here are 5 of the greatest classic true crime television series to binge watch online.
5. The FBI Files, Amazon Prime
Focusing on, gasp, FBI cases, The FBI Files follow (now-dated) techniques used by the Bureau as they try to solve some of their most baffling cases. The best part about this series is that FBI agents take you through the episodes rather than having a narrator lead the way, making it seem a little more urgent than any of the other series out there.
4. Forensic Factor, Amazon Prime
Essentially a Canadian version of Forensic Files, Forensic Factor's first six seasons are available to stream on Amazon Prime. The interviews with crime experts are a little bit more in-depth in this series than others, and though it's not the best show on television, it's definitely still entertaining.
3. Forensic Files, Hulu
Though Forensic Files has been through a lot of changes over the years, changing up titles, premises, and narrators, this 15-season show still has the power to captivate over two decades after its inception. As a pioneer of documentary style crime-science shows, it didn't focus on just murder but on a number of "puzzling, often baffling cases whose riddles are ultimately solved by forensic detection," according to its original website.
2. The New Detectives, Hulu
Focusing heavily on forensic science (much like every other true crime show out there), The New Detectives showcases three murder cases per episode and uses a combination of re-enactments and dramatizations, as well as some real footage when appropriate.
1. Unsolved Mysteries, Amazon Prime
A true classic. Five seasons of the Robert Stack-hosted true crime series Unsolved Mysteries are available to stream on Amazon Prime right this second. That means you better get ready for a ton of wonderfully horrible stock re-enactments of everything from crimes of passion to alien abduction. An episode is only made better when it turns out a viewer's call helped solve the previously unsolved mystery.