10 of the Best Video Games Coming Out This Year 
The first half of 2017 was only the beginning.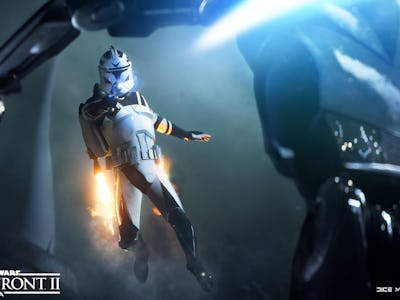 Electronic Arts 
We're halfway in, and 2017 is already shaping up to be one of the best years for video games in a long time, bringing forward excellent titles filled with memorable experiences like Prey, Persona 5, and Mass Effect: Andromeda. But, now that the spring release season leading up to the Electronics Entertainment Expo is past us, it's time to look at the great games coming throughout the rest of this year.
While it's true that E3 featured tons of new video games to get excited about, many of them aren't actually coming until 2018 – including major hits like Sony's Spider-Man, BioWare's new IP Anthem, and Nintendo's new Pokémon game for the Switch. That doesn't mean gamers don't have anything to look forward to this summer and fall however, which is still clocked full of fantastic titles. Here's a look at some of the best games coming out this year, and when you can play them on your favorite platform.
Splatoon 2
One of Nintendo's surprise hits, Splatoon captured our hearts with the competitive spirit of ink-based combat which kept the battlefield dynamic throughout each passing match. Splatoon 2 is set to bring those intense fights back with four player competitive and cooperative modes, while introducing a whole new level of fashion to the city of Inkopolis.
Platform: Nintendo Switch
Release date: Friday, July 21.
Hellblade: Senua's Sacrifice
From the people who brought you Heavenly Sword, Enslaved: Odyssey to the West, and Devil May Cry comes Hellblade: Senua's Sacrifice, a journey set in the Viking age which follows a lone Celtic warrior who's gone into hell to fight for the soul of her dead lover. The development team worked with neuroscientists and people who experience psychosis too, to bring an experience into Senua's mind that feels a little too real.
Platform: PlayStation 4 and PC.
Release date: August 8, 2017.
LawBreakers
Although the game has been around in alpha and beta forms for some time, LawBreakers is coming out for real this fall and bringing gravity defying combat with it. When a diverse cast of characters clash after heist goes wrong, players will have to side with the Law or the Breakers to retrieve a mysterious briefcase in this arena-based shooter from Cliff Bleszinski.
Platform: PlayStation 4 and PC.
Release date: Tuesday, August 8.
Uncharted: The Lost Legacy
A standalone expansion to the Uncharted series, Uncharted: The Lost Legacy puts players in the shoes of Chloe Frazer as she searches for the Tusk of Ganesh with the help of Nadine Ross. Stuck in the middle of a civil war, the two must work together to overcome any challenge in their way using firearms, stealth, and vehicles to their advantage.
Release date: Tuesday, August 22.
Absolver
Developed by Sloclap and published by Devolver Digital, Absolver kicks off with your character waking up with a mysterious mask on their face which prevents hunger, thirst, and death. Your only goal is to prove yourself while wondering the forsaken lands of the Adal Empire, while fighting off other players who are trying to do the same.
Platform: PlayStation 4 and PC.
Release date: Tuesday, August 29.
Destiny 2
The next chapter in Bungie's epic sci-fi adventure, Destiny 2 is the same core experience as Destiny with plenty of new additions designed to improve the player experience. With a refined focus on 4v4 multiplayer, Raid matchmaking features, and a set of new subclasses to dive into, the sequel's shaping up to be an impressive step in the right direction for the series.
Platform: Xbox One, PlayStation 4, and PC.
Release date: Wednesday, September 6. (Tuesday, October 24 for PC).
Pokkén Tournament DX
Announced before E3 in Nintendo's Pokémon Direct presentation, the new version of Pokkén Tournament is packed with new content and brings the legendary arena fights of the Wii U title to the Nintendo's latest console with additional Pokémon like Decidueye, Darkrai, and Empoleon.
Platform: Nintendo Switch
Release date: Friday, September 22.
Middle-earth: Shadow of War
Sequel to 2014's Middle-earth: Shadow of Mordor, Shadow of War puts Talion in the middle of the battle against Sauron while expanding the game's infamous Nemesis System with dozens of new features like fortress sieges, enemy factions, and additional wraith powers.
Platform: Xbox One, PlayStation 4, and PC.
Release date: Tuesday, October 10.
Call of Duty: WWII
The next installment in the Call of Duty franchise is set to bring players back to the beaches of Normandy, keeping your boots on the ground and changing up multiplayer with a series of new modes, maps, and customization options for you to dig into.
Platform: Xbox One, PlayStation 4, and PC.
Release date: Friday, November 3.
Star Wars Battlefront II
While the first Star Wars Battlefront didn't deliver the experience gamers felt they deserved, the next chapter in the series looks to be making good on every promise the development team has made over the last few years. With a new class system, added customization for your character, and the removal of a season pass, Battlefront II is clearly hoping to bring fans everything they've asked for.
Platform: Xbox One, PlayStation 4, and PC.
Release date: Friday, November 17.