Sean Bean to Star in 50 Cent's Crime Drama 'The Oath'
Look, Sean Bean does not have a good track record when it comes to surviving.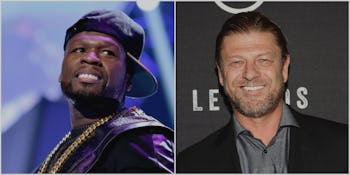 Getty Images
Sean Bean, an actor best known for playing characters who died horribly in Game of Thrones, Lord of the Rings, Goldeneye, and many, many more, has been cast in an upcoming crime drama produced by Curtis "50 Cent" Jackson. The show, The Oath, will debut on the streaming service Crackle, and explore the dangerous world of gangs and dirty cops. So, in other words, exactly the type of situation that Bean's character would end up getting murdered in.
Deadline reports that the 58-year-old actor will play Tom Hammond, the leader of a gang consisting of crooked cops. A deal with an undercover FBI agent lands Hammond behind bars, but upon his release, he's determined to climb back to the top of the criminal underworld and lead his gang once more.
How do we think he's going to die? Will he have his head cut off, a lá Ned Stark? Seems kinda unlikely, unless the gangs of The Oath are into swords. Maybe he'll be shot. It certainly wouldn't be the first, second, third, fourth, or fifth time that he's been plugged full of bullets.
Or, maybe, the show will be canceled before he gets a chance to die. You never know. Production for The Oath kicks off in Puerto Rico in July, and the series should premiere sometime in 2018. In the meantime, here are some Sean Bean deaths to get you ready.