This Robot Worm Might Perform Your Next Colonoscopy 
Scientists hope the little anus robot will help make colonoscopies less unpleasant.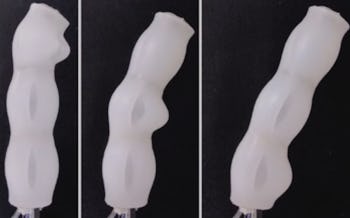 University of Colorado Boulder
Colonoscopies are among the most annoying, painful medical procedures. While it can cut the mortality rate of colorectal cancer in half, most men who should be getting screened either put the procedure off or never have it at all.
But fret not! Scientists from the University of Colorado Boulder's Advanced Medical Technologies Laboratory have designed a robot that might make your colonoscopy less uncomfortable.
This particular device — a six-inch tall robot that works its way up the butt — is designed to crawl up the anus and find cancerous polyps with a camera mounted to its head. The robot (thankfully) has a soft, fleshy body made up of three rounded segments, controlled by a series of nine springs that allow doctors to steer the device on its journey by mimicking the intestine's own peristaltic, wave-like motion. As the springs in one body segment contract to grab a hold against the sides of the intestine, the other two segments relax, inching the robot forwards like an earthworm wriggling through the mud.
While conventional colonoscopies involve working a cable up in there, the researchers responsible for this robotic anus worm say that this little guy can help make colonoscopies less intrusive and less damaging to the rectum wall — and therefore a tad more comfortable.
The scientists who designed the device explain that they built the worm while keeping in mind how your body pushes waste in the opposite direction. Because the movement is more natural, they hope that a robot-guided colonoscopy would only take 20 minutes compared to the half hour that the conventional procedure takes.
Basically, when this robot goes spelunking at its blinding speed of two-and-a-half centimeters per minute, it will feel sort of like you're pooping in reverse.
While the worm (still in the prototype phase) won't be wriggling into anybody just yet, it's possible that you could have one of these bad boys snooping around your colon at a future screening. As of now, Inverse is waiting on comments from the research team on how they tested their device and also how it might be removed once it's done exploring.
To see the robotic butt worm in action, check out this safe-for-work video of the little guy wiggling around.