USS Fitzgerald Crash: Navigational Systems or Human Error or Both?
"This was a severe emergency."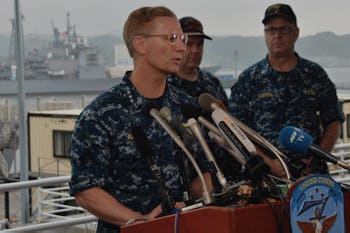 U.S. Navy
At 2:20 a.m. local time Saturday, the USS Fitzgerald was moving through a busy shipping lane south of Tokyo when a 29,000-ton Filipino merchant ship rammed into its right side. The sudden impact crushed part of the ship where sleeping quarters for 116 sailors were located, as well as the captain's cabin. Seven sailors were killed.
Following the incident, there have been a lot of questions surrounding how a U.S. destroyer with advanced technical capabilities didn't manage to anticipate a collision with a merchant ship that was three times its size.
According to the Wall Street Journal, tracking data obtained from the merchant ship, the ACX Crystal, showed that it reversed its course around 2:05 a.m. local time, shortly before the time of the collision given by the U.S. Navy of approximately 2:20 a.m. It's also been reported that the shipping company that operates the ACX Crystal, Nippon Yusen K.K., as well as the Japanese Coast Guard, have both stated that the collision occurred around 1:30 a.m. We don't know yet if either of the vehicles were using an autopilot system at the time of the crash.
On Sunday morning during a press conference in Japan, Vice Adm. Joseph Aucoin, commander of the 7th Fleet, refused to add to any speculation, but he did offer some information about the incident itself.
"This was not a small collision, it was right near the pilot's house and there was a big puncture, a big gash, underneath the water line," Aucoin told reporters at a press conference in front of the USS Fitzgerald, nicknamed the "Fighting Fitz."
With three large compartments of the ship severely damaged so suddenly, the crew didn't have a lot of time to respond. "This was a severe emergency," Aucoin said. "But the ship's crew was swift and responsive and I can't tell you how proud I am of what they did to save this ship. They prevented this ship from foundering or sinking last night."
When asked how many crew were awake and on watch when the incident occurred, and whether the ship's navigational equipment was working correctly, Aucoin didn't have any answers. "I don't have the exact number of the crew but I'm sure they had a full compliment, what's normally expected during a watch. As far as to the systems and all that, we're going to do an investigation to find out what exactly happened."
"As to how much warning they had, I don't know, that's going to be found out during the investigation. But it's a significant impact that the crew had to fight very hard to keep the ship afloat."
The Navy released more than eight minutes of footage on Sunday morning of the ship arriving at Yokosuka Naval Base, in what appeared to be an effort to demonstrate Navy resilience.
"The ship is salvageable," Aucoin said. "…You will see the USS Fitzgerald back as one of our warships here, but it will require some time. It will take months, hopefully under a year."
You can watch the entire press conference below: