How Spike Convinced Stephen King to Let Them Remake 'The Mist'
The creator of Spike's 'The Mist' got Stephen King's blessing, on one condition.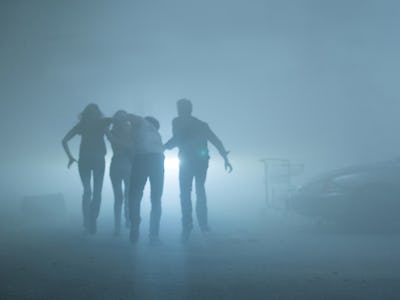 Spike
As a purveyor of the profoundly disturbing, Stephen King is rarely one to do things by halves. Knowing this, Spike's The Mist creator Christian Torpe was determined to speak to King before getting the ongoing series on its feet. King responded to an email from Torpe, giving his blessing to the television adaptation of his famed 1980 novella of the same name, but, perhaps expectedly, he had one request: Don't do anything "ordinary."
"I sat down in a very early stage and wrote an email to Mr. King about what I proposed to do in order to turn it into a full show," Torpe told Inverse. With a 2007 movie adaptation of The Mist already out there — a film that's infamous for having one of the darkest endings in modern horror history, no less — Torpe wanted to do something different while still remaining true to King's ultimate message.
In the email, Torpe told King he "hoped to keep the DNA of [King's] incredible novella," and got a response saying that "as long as I didn't do anything ordinary he was completely on board and I had his full support," a response Torpe called, "incredibly generous and liberating."
Torpe is taking The Mist down a different path from King's original novella and the 2007 film while still remaining "very conscience" of the same themes.
"We took the heart of his novella, which worries about what people do when they're blinded by fear," Torpe said. "I thought that was, unfortunately, incredibly timely and relevant to tell a story about.
"Obviously, it's a dream of any writer to get to adapt Stephen King," Torpe continued. "It's almost 40 years ago that it was published and it still feels so incredibly timely and relevant. That's just a dream. My notion was [that] the novella and the movie were obviously about how people see answers in religion and about religious fundamentalism. I wanted to expand on that notion for the purpose of the show, so it's not just about religious extremism, but radicalization in all aspects of life, whether they be political or just hate founded in misogyny or homophobia — or it can just be a personal radicalization in your personal life."
Whereas the 2007 film The Mist focused quite a bit on the mysterious monsters in the mist, Torpe says his show will be more of a psychological drama, making it "much more about how people respond to the monsters than the monsters themselves."
And, with that in mind, it's easy enough to see how the citizens of Bridgeville, Maine, will turn on one another as the mist sets in.
You might also be interested in: "Stephen King Understands What Scares Americans".
The Mist premieres on Thursday, June 22 at 10 p.m. ET/PT on Spike TV.