The U.S. Has Just Produced More Renewable Energy Than Ever Before
And we owe a lot of it to Texas.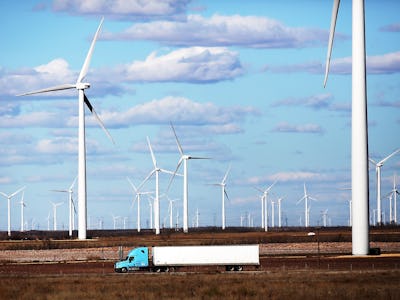 Getty Images / Spencer Platt
On Wednesday, a report from the federal government found that in March the United States generated more renewable energy than it ever has before.
In March, the United States produced over 32 trillion kilowatt hours of solar and wind energy reports the US Energy Information Administration. This is ten percent of the total energy generated by the U.S. for the month, a three precent jump from March last year. Although solar has been the focus point for a lot of renewable energy technology recently, with the release of the Tesla solar roof, most of the renewable energy being produced in the is wind power, particularly in Texas.
Renewable energy has slowly been producing more and more of the electrical power in the United States over that last ten years. Over the last ten years, the US generally produces about 320 trillion kilowatt hours of energy in the month of March. Between 2007 and today, solar and wind production jumped from producing less than a single percent of the total energy of the US, to coming in at over 32 trillion kilowatt hours.
Most of this energy growth has come from wind. Solar only made up two percent of the renewable energy produced across the country in March this year. Across the country, only California and Arizona generated more energy using solar than by wind. The majority of the energy was generated by wind farms in Texas, which generates about 13 percent of its total electricity using wind and solar. In March, Texas produced 6.9 trillion kilowatt hours of wind, which makes up more than a fifth of the renewable energy produced across the country.
In general, wind farms in tend to produce more energy than solar in the blustery, cloudy spring weather. Since April is typically windy and a little less cloudy, it is likely to have beaten the ten percent mark, the U. S. Energy Information Administration predicts. And our dependence on wind, and the fact that it tends to be less windy during the summer months, means that renewable energy use is likely to taper down again this summer. This is a yearly trend, with spring and fall tending to be the highest for renewable energy generation. As the solar industry continues to grow it's possible that hitting ten percent of energy generation will seem like small change.