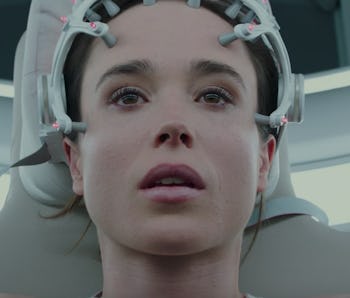 Entertainment
Ellen Page Comes Back From the Dead in Scary 'Flatliners' Trailer
When you come back to life, something comes with you.
Everyone who understands the concept of mortality has wondered, at some point, what happens to us after we die. In Flatliners, a loose sequel to a 1990 film of the same name, Ellen Page and her friends decide to find out. But when they come back from the brink of death, something comes with them.
The trailer, which hit the web on Tuesday morning, shows Page and her fellow medical students, Nina Dobrev, James Norton, Kiersey Clemons, and Rogue One star Diego Luna, intentionally stopping their hearts before being revived. It's a rush, but it also seems like these trips to the afterlife (or close to it, at least) are letting them tap into something bigger than themselves. Page learns how to play piano, somehow, after one near-death trip.
As they take longer and longer ventures to the other side (Page takes a 7-minute jaunt), things start to take a turn. They're being haunted by their pasts. Seriously, maybe don't visit the afterlife if you're responsible for sending somebody there. They might reasonably have a grudge. The whole thing has a Final Destination vibe, though the deaths might not be as elaborate.
Flatliners, which also features Kiefer Sutherland, who'll be playing an older version of his character from the '90s film, hits theaters on September 29.