What Jordan Gavaris Would Have Changed About 'Orphan Black'
"Inevitably, stuff gets cut."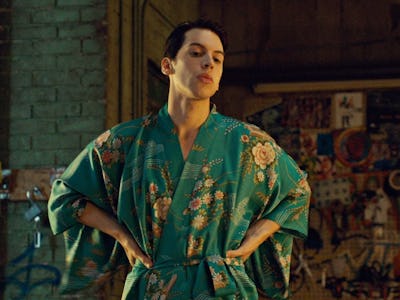 BBC
The fifth and final season of BBC America's Orphan Black premiered on Saturday after months of anticipation. One of the reasons it's so highly anticipated? The return of Jordan Gavaris's Felix Dawkins, the cutting and sarcastic friend and brother to the clones.
Gavaris spoke with Inverse prior to the Season 5 premiere of Orphan Black and revealed the thing he would have changed about his time on Orphan Black, the thing that he wishes would have had more screentime: Felix's dalliances.
Gavaris told Inverse that he would have liked to see, first, more of Felix's hustling and, second, more of "his debauchery." Felix of course, is a sex worker, and has other flirtations during the four seasons of the show.
"Ten episodes isn't enough time to cover the depth of plot that they were trying to cover," Gavaris said. "So, inevitably, stuff gets cut."
And although Gavaris didn't hint at there being much more exploration of Felix and his dalliances in the show's fifth and final season, fans can hope, right?
Orphan Black Season 5 airs on Saturdays at 10 p.m. EST on BBC America.