Producer: 'Star Trek: Discovery' Will Be More Diverse Than Ever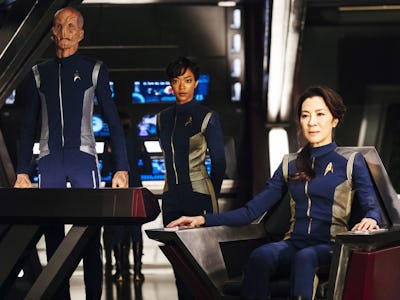 CBS All-Access
The U.S.S. Discovery might be en route to being the most diverse crew in the history of Starfleet. Star Trek: Discovery producer Alex Kurtzman says the team behind Discovery understood the importance of doing right by the franchise and its fans.
It seems the Discovery team was so determined to do the show justice that it resulted in the now-infamous delays that have plagued the show. Kurtzman told Collider:
We postponed our schedule because the truth is we did not want to put out something that was subpar, and as the vision expanded we started feeling like we weren't gonna be able to deliver the scope and the scale that was on the page. And CBS was extremely supportive in saying, 'Okay you know what, this is streaming, it's not like we have to beat out right away, let's do the best version of this, Trek is too important for all of us.'
Discovery co-creator Bryan Fuller originally intended, before leaving the show abruptly in October 2016, for Discovery to be more inclusive than any Trek project in the past, especially for the LGBTQ community. And, according to Kurtzman, that will remain prevalent in Discovery, especially since Trek has a long history of being a forward-thinking show.
"I don't feel that—going back to what you said about where television is at right now, it would be foolish of us to not only ignore it but not to take advantage of the fact that that's how people are consuming stories and they're hungrier for more complicated stories," Kurtzman said. "What would have been a taboo subject 10, 15 years ago is now everywhere, and that's a beautiful thing."
And despite previous fan upset, most likely caused by trolls on the internet, the majority of Star Trek fans welcome diversity. After all, it's what Gene Roddenberry always intended.
Star Trek: Discovery premieres sometime this fall.