The Beautiful Madness of Tech Poetry on the A Train
The ever-disruptive spoken word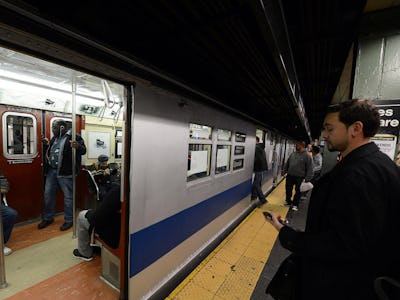 The line between poetry, technology, and lunacy can become blurry on the morning A train. What is recreated here (as accurately as possible) is a spoken-word performance delivered to a standing room mostly audience that wasn't super into it.
But there's always something to be said for verse, especially when it speaks to (or past) the pressing issues of our day. Enjoy.
Love at first cyber
Love your cyberbully
Love your cyberbully
Text your cyberbully two times a day
The L train is full of lesbians
The L train is wall-to-wall lesbians!
The L train to Lesbian Square
The L train to Lesbian Square
Sex is not safe
Jealous lovers
Sex is never safe
Safe sex begins with Ebola
Aliens love pink 
Mike thought the restaurant was empty 
But the cops can't shoot you
In cyberspace
Stanza One: The first line reflects our growing reliance on the Internet to forming relationships. Pew Research notes that, in 2013 59 percent Americans surveyed believe that online dating is a good way to meet people, a jump from 44 percent in 2005. With the advent of apps like Tinder, with an emphasis scrolling through photos, the first line is doubly true. There's an immediate twist, however, with the repeated lines underscoring the harassment of individuals on the Internet. Twitter CEO Dick Costolo admitted in February "We suck at dealing with abuse." The exhortation to "love your bully," of course, evokes not only the teachings of Jesus Christ, but holds a mirror to oft-repeated advice to not feed the trolls. Confrontation with a cyberbully, though not universally a good idea — and should anyone but your closest friends really be texted every day, twice a day? — has, in rare instances, led to understanding, as what happened when feminist writer Lindy West spoke to her troll. "I didn't mean to forgive him," she wrote at The Guardian, "but I did."
Stanza Two: The poet introduces an element of historical social commentary in stanza two, reflecting on how members of the LGBT community would form enclaves, or so-called gayborhoods, in certain parts of a city where they could be safe from prejudice. But sociologists like University of British Columbia's Amin Ghaziani have posited that these safe spaces are homogenizing, or "de-gaying," as American culture becomes more accepting; three in five Americans support gay marriage, according to a recent Gallup poll — the highest percentage since pollsters began tracking this opinion in 1996.
An alternate interpretation that the (male) poet is just an asshole, however, cannot be entirely discounted.
Stanza Three: Stanza three is the most ironic, as unfortunately fewer young Americans are practicing safe sex. STI rates in seniors, who may never have had safe-sex education but are living longer and are more sexually active, are also increasing. What is tougher to track or discuss, however, is the impact of sex on emotional health, represented in this case by jealousy. Psychologist Susan Krauss Whitbourne notes that conducting such research can be discomforting for subjects, and many studies on emotional well-being after hooking up are small samples drawn from colleges. The safest sex, the poet suggests, is none — when you're dead — though a cheap Ebola joke left this listener unsatisfied.
Stanza Four: The poem grows increasingly unhinged, harkening back to postmodern works championed by the likes of William S. Burroughs. The listener is left with a host of questions: Who is this character Mike? What did he do in the restaurant? Do aliens love the color pink, or are they infatuated with early millennial pop-rock singers? We do not know, but neither are we meant to.