Ford: Industry Has to Decide If Autonomous Cars Will Kill Drivers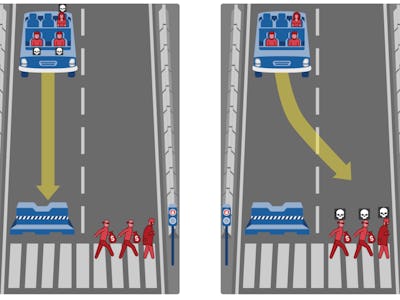 Moral Machine/MIT
Automakers are going to need to decide whether cars should kill drivers or pedestrians, a Ford executive claims. While the hardware and software elements will be in place for autonomous cars to take to the roads around 2021, a number of other issues remain that require an industry-wide response from manufacturers.
"Things like ethics," Ford executive chairman Bill Ford Jr said in a story published Monday. The same day, the Trump administration announced it would unveil new autonomous car guidelines within the next few months. In light of this, automakers are considering how this regulatory framework looks and the role manufacturers should play.
The question, Ford explained, is how the software inside a vehicle approaches an emergency. When left with a choice to kill a group of 10 pedestrians or kill the vehicle's occupants, it's crucial to understand which decisions the vehicle will make. Automakers cannot program individual ethics systems, though, and the industry needs to decide on an approach as a collective.
Some automakers have already started grappling with this question, drawing their own conclusions. Mercedes-Benz, which has previously demonstrated an F 015 autonomous concept car, is working on making its vehicles as safe as possible, but a previous interview suggests it would opt to kill the pedestrians.
"You could sacrifice the car. You could, but then the people you've saved initially, you don't know what happens to them after that in situations that are often very complex, so you save the ones you know you can save," Christoph von Hugo, Mercedes's manager of driver assistance systems, said in an October interview. "If you know you can save at least one person, at least save that one. Save the one in the car."
It's not just automakers considering these issues. Moral Machine, a project from MIT, is crowdsourcing answers to ethical dilemmas with autonomous cars. The survey could serve as a useful way of gauging public acceptance of certain moral decisions.
Outside of the United States, some legislators have already started taking action. In September, Germany's federal transport minister Alexander Dobrindt outlined three key rules the government would like to see in final regulations:
(1) "It is clear that property damage takes always precedence of personal injury.
(2) "There must be no classification of people, for example, on the size, age and the like."
And
(3) "If something happens, the manufacturer is liable"
Rules like these could make something like MIT's Moral Machine obsolete, but it could let automakers like Mercedes-Benz avoid ethical dilemmas altogether.