'Cowboy Bebop' Live-Action TV Series in Development
Imagine the corgi casting call for Ein!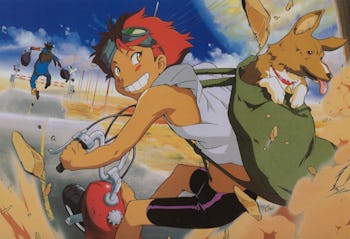 Alpha Coders
In 1998, raunchy space anime Cowboy Bebop premiered to rave reviews in Japan. In 2001, after the show had wrapped, an animated feature film was released, and the show became the first anime ever to air on Adult Swim in the United States. Sunset Inc., the studio that produced the anime, has entered a partnership to produce a live-action TV series adaptation.
Cowboy Bebop follows a man named Spike and his fellow bounty hunters (called cowboys in the series) as they travel the universe. The series, set in 2071, is still critically acclaimed for depicting loneliness and existential ennui. Its director, Shinichirō Watanabe, also created Space Dandy, which simulcasted new episodes in English and Japanese in 2015. Both Space Dandy and Cowboy Bebop are renown for inventive, catchy soundtracks and experimental plot devices. In short, they're bright and loud animated series for intellectuals.
Variety reports there is no release date set for the live-action Cowboy Bebop, but now is a great time to route back and watch all of the original series, which you can stream on Hulu.
See also: How Cowboy Bebop Predicted the Millennial Experience