'Kill Switch' Drops a Physicist Into Badass First-Person Action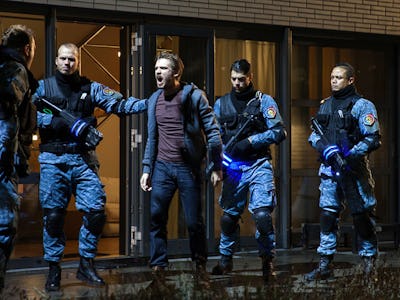 Saban Films
As proof that humans aren't satisfied with just messing up our own world, Tim Smit's upcoming science-fiction flick Kill Switch takes place in a future where humanity has figured out how to harness the power of parallel universes. As expected, it goes totally wrong. And it seems the only person who can save everyone is physicist and pilot Will Porter (Dan Stevens; Legion, Beauty and the Beast).
As Dread Central reported, Saban Films, the team behind Kill Switch, just released a new set of photos from the film that shows its varied locations and moods. A man staring dead-eyed into a camera while holding a black box fixed with a red circle, two mystery character supposedly from the parallel universe look harrowed, and Stevens reassures his worried-looking wife and son several times.
When the opportunity to harness the energy of another universe goes horribly wrong, Stevens is dragged into a plot that sends him, first-person shoot-'em-up video game style, through a sci-fi wormhole into the parallel universe. It seems like there's a big red button — hence, Kill Switch — that will make everything better. Stevens just has to fight police robots to get to it.
The official synopsis for Kill Switch is:
Acclaimed writer-director Tim Smit explodes on to the scene with his futuristic, VFX-heavy feature debut! KILL SWITCH charts the story of a pilot battling to save his family and the planet, based on Smit's short What's in the Box? Set in a future version of the world, the video game style plot follows an experiment for unlimited energy, harnessing parallel universes, which goes wrong. Chased by drones and soldiers, pilot and physicist Will Porter must race through an imploding world to get the Redivider box to a tower, which will save humanity, including his family, in the real world.
Kill Switch premieres in select theaters nationwide on June 16.