Crazy 'Game of Thrones' Theory Says Jaime Lannister Is Azor Ahai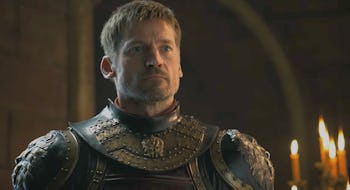 HBO/YouTube
As Game of Thrones enters the home stretch with its final two seasons, prophecies about its endgame are becoming increasingly important — and the biggest one might change Jaime Lannister's role in the story, thanks to the dictionary. Not Merriam-Webster, though. It comes down to some mixed-up Valyrian words.
The Prince That Was Promised, also known as Azor Ahai, is a legendary savior from hundreds of years before the main events of the show. He's supposed to be reborn to save the world from darkness. Melisandre has mentioned this several times, as she originally thought Stannis was Azor Ahai reborn. Sam and Gilly are also reading about Azor Ahai in photos from Season 7. Of course, the more he's referenced, the more it makes you wonder who Azor Ahai reborn will be. Most people think it will be Jon, or possibly Daenerys. Since they're the two characters who have been "reborn" in the most literal ways, this makes sense.
But as one fan on Reddit points out, there's an unexpected compelling argument for Jaime Lannister as this legendary savior. When Paste Magazine interviewed the anonymous Reddit user on Wednesday, they said:
So, the basic gist is that there is a seriously problematic translation error that, once cleared up, will shed light on the identity of the hero… According to the Valyrian dictionary, Valyrian words for lord and light are aeksio and onos. However, Valyrian words for gold and hand are aeksion and ondos. Just as we might suspect, The Lord of Light is a farce. Jaime Lannister—Gold Hand—is the hero of legend and prophecy.
If the story takes this route, that presents a fascinating angle on fate, religion, and prophecy in the world of Game of Thrones. The story has always danced around presenting the gods as entities that characters believe in versus presenting them as literal parts of the world. When Melisandre resurrected Jon Snow in Season 6, that seemed to confirm that there was something to the Lord of Light business after all. But as this fan suggests, the Lord of Light could be conflated with Azor Ahai. Melisandre thought she was a fraud after Stannis died in Season 5; she got her faith back after resurrecting Jon in Season 6. But if Jaime is the prophetic hero, the true answer could be that she's both.
The original Reddit post draws parallels between the hero Azor Ahai laboring to forge his legendary sword and Jaime Lannister laboring to shed his "Kingslayer" persona, thus experiencing rebirth.
Additionally, it argues that just as Azor Ahai had to kill his love, Nissa Nissa, Jaime will have to kill Cersei. Even if Jon and Daenerys bang, it's unlikely they have enough time to develop the kind of deep love required for a sacrifice. With a second glance at the dictionary, then, Jaime Lannister just became the most likely contender to save the world.
Game of Thrones Season 7 premieres July 16 on HBO.