5 Revealing Interview Podcasts With the Late Sir Roger Moore
Listen to these to know more about the most dapper Bond.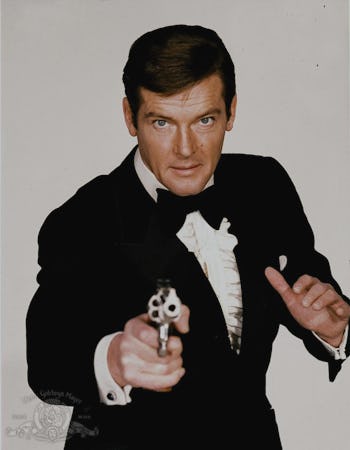 MGM
Roger Moore, who played James Bond in seven movies in the '70s and '80s, died at age 89 in Switzerland on Tuesday.
Moore was active late into his life, evidenced by his public appearances and active Twitter account where he spoke out against factory farming, rallied for children in South Sudan, and wished everybody a happy Valentine's Day, an annoying sentiment if it hadn't come from a kindly old British man who once played 007.
If you find yourself seeking more about Moore, especially if you only saw his Bond movies on cable as a child, these five longform interview podcasts will do the trick. We're including the iTunes link, but a little Googling will get you where you need to be as well.
Moore was invited on the BBC Radio 4 show Desert Island Discs on July 25, 1981, who told host Roy Plomley that one of the eight discs he'd take onto a desert island was "Recuerdos De La Alhambra" by Liona Boyd; his favorite book, Nobel House by James Clavell; and his "luxury" item might be a surprise to some listeners who'd expect something more extravagant from a movie star.
Departing from the high-brow BBC Radio 4 is this talk show podcast episode released on October 14, 2016. You hear about Moore's first turn as Bond in 1964 and what he thought of Timothy Dalton's turn as 007.
In September 2014, Moore answered a variety of interesting questions of pure fandom and silliness on the 83-minute episode.
On this BBC Radio 3 podcast recorded in December 2014, Moore talks about the music he loves and hates, and the influence it had on his life. Host Michael Berkeley talks to Moore about his love of opera and the strings.
Moore appeared on NPR in November 2008, promoting his memoir My Word Is My Bond, a book that explores his early years in Albert Square in London.
And while not an interview, we're including this, too: The "Roger Moore Retrospective" episode of Male-Bonding, the review series podcast of James Bond films. The 53-minute episode looks at all things Moore-as-Bond: His roles in Live and Let Die, The Man With the Golden Gun, Moonraker, Ocotpussy, and more.
Per his wishes, Moore will have a private funeral in Monaco.