Watch: Massive Humpback Whale Gets Stuck in California Harbor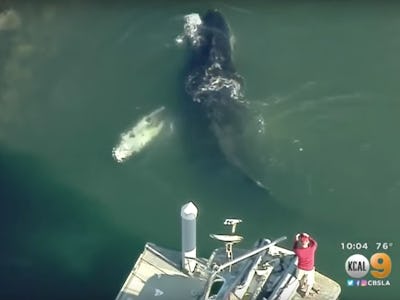 Youtube
A young humpback whale that got itself stuck in a California harbor found its way out overnight, according to the Ventura Harbor Patrol.
Harbor patrol spotted the whale around 4 p.m. Saturday swimming in and around the docks of the Ventura Isle Marina and Ventura West Marina. Spanning around 35 feet in length, the whale quickly drew massive crowds to the harborfront, as onlookers sought to catch a rare, close-up view of the wild animal.
According to ABC7, the humpback struggled inside the harbor for hours, at times hitting the docks and crashing into the back of a boat.
For hours Saturday, wildlife experts attempted to guide it out by blocking parts of the harbor and using a hydrophone that plays underwater whale sounds. The effort was abandoned in the late evening, but when rescue crews returned Sunday morning, the humpback was gone. The hydrophone had been left near the harbor entrance, and it's believed that it may have helped guide the whale out overnight.
Authorities said there were no indications the whale had been injured during its harborfront odyssey. You can also watch an aerial view of the whale below, which gives a real visual of the mammal's full size.