'War for the Planet of the Apes' Teaser Recaps Man's Downfall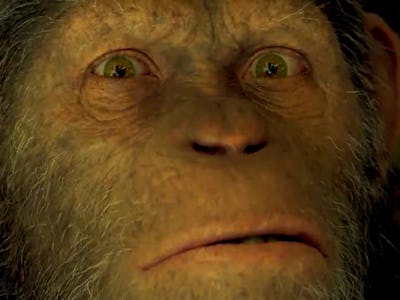 20th Century Fox
The War for the Planet of the Apes will begin this summer, but the epic primate-on-primate conflict has been building for some time. A final trailer is coming out on Tuesday, but on Monday the studio released an intense teaser recapping mankind's technological rise — and mankind's downfall, the rise of the apes. It's a nod to history in more ways than one, since it's narrated by original Planet of the Apes star Charlton Heston.
"I refuse to accept the end of man," Heston says in a voiceover taken from the 1968 movie. As Heston talks, we see historical footage of the march of industry, war, and other moments that show society's evolution. "I believe he will endure; he will prevail," Heston continues. "Not because alone among God's creatures he has a voice. But because he has a soul, spirit capable of compassion and endurance."
As he talks, though, and the historical footage transitions from black and white to color, clips from the first two modern Planet of the Apes movies begin to flash on screen. Gorillas rampage across the Golden Gate Bridge, increasingly civilized apes go to war, and Caesar leads his ape brothers and sisters.
So, when Heston wraps up by repeating, "I refuse to accept the end of man," it rings a little hollow. The teaser finishes with a new bit of footage — Caesar looking into the camera, hauntingly.
"Witness the end" a title card reads.
It's maybe worth remembering, though, that in the first Apes sequel, Beneath the Planet of the Apes, Heston's character ultimately wipes out mankind for good when he blows up the Earth.
The War for the Planet of the Apes will rage into theaters on July 14.