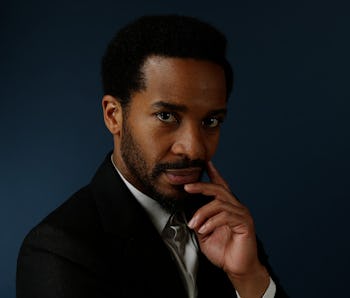 Entertainment
'Moonlight' Actor's 'Castle Rock' Casting Hints at 'Green Mile'
André Holland will play a death row attorney. 
Los Angeles Times
A lead actor has finally been attached to Stephen King and J.J. Abrams's Hulu-bound series Castle Rock. André Holland, best known for his roles in American Horror Story: Roanoke and, more admirably, the Academy Award-winning Moonlight, will play the lead role in Castle Rock, a role that hints at one of King's most beloved novels.
Holland will portray Henry, described by Deadline as "a death row attorney with a unique and complicated history in Castle Rock, Maine."
The presence of a death row attorney hints at The Green Mile, a 1996 serial novel by King, focusing on several death row inmates and their correctional officers. A 1999 film of the same name, based on King's book, starred Tom Hanks as Paul Edgecomb, the main correctional officer, and Michael Clarke Duncan as John Coffey, a death row inmate accused of child rape and murder, who has supernatural powers.
No one named Henry appears in The Green Mile, but a death row attorney seems to imply that something Green Mile-esque will be going on in Castle Rock.
Based on the fictional town of Castle Rock, Maine, that appears in so many of King's novels and short stories, the psychological horror-drama Hulu series is expected to combine some of King's most infamous stories. The Green Mile joins the ranks of Salem's Lot, Needful Things, Shawshank State Prison from King's 1982 novella "Rita Hayworth and Shawshank Redemption," Annie Wilkes from Misery, Pennywise from IT, and Danny Torrance from The Shining as expected story devices in the show.
Castle Rock is expected to begin production sometime this year.