Colbert is Assembling a 'Daily Show' Reunion on 'The Late Show'
The Best F#@king News Team Ever is back.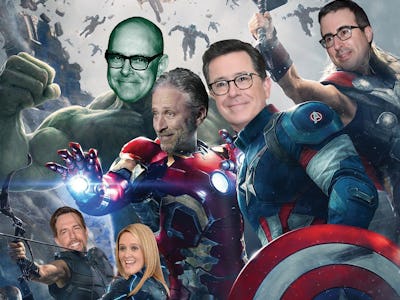 Stephen Colbert, the current host of The Late Show, has been on late-night TV for two decades now, and to celebrate, he's hosting a bit of a reunion. That's right, Colbert is having all his classic Daily Show pals on as guests for Tuesday's show, including John Stewart, John Oliver, Samantha Bee, Ed Helms, and Rob Corddry.
Colbert, who joined The Daily Show as a correspondent in 1997, famously went on to host The Colbert Report before taking over David Letterman's spot as the host of the venerable late-night mainstay. Colbert was the second-longest severing correspondent on the show (Bee eventually broke his record), so he overlapped with quite a few other correspondents, but the crew he's bringing onto Tuesday's show are probably the most iconic of the bunch.
Stewart, of course, was the host of The Daily Show until he turned the reins over to Trevor Noah in August of 2015. He's been pretty quiet since leaving, but he's joined Colbert on The Late Show for a couple goofs now and then. The rest of the guests have gone on to have successful careers as well. Corddry and Helms are big comedy actors, while Bee and Oliver host the acclaimed shows Full Frontal and Last Week Tonight, respectively.
Really, the only past correspondent of note from this era who is missing from the reunion is Steve Carell, who often served as a foil to Colbert in reoccurring bits like "Even Stevphen."
The Late Show pieced together a heroic Avengers photoshop to help promote the occasion.
The Late Show airs at 11:35 p.m. Eastern on CBS.