Runner Narrowly Misses 2-Hour Marathon Mark at Nike's Breaking2
Eliud Kipchoge still ran a record time.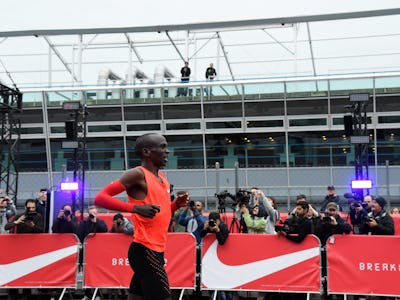 Getty Images / Pier Marco Tacca
Nike's attempt to break the two-hour marathon mark fell flat Saturday, but it did set a record of sorts.
Kenyan Olympian Eliud Kipchoge finished the full 26.2-mile marathon in two hours and 25 seconds — over two minutes faster than the current world record. However, the corporation's curated race was disqualified from being considered for the world record because it didn't follow regulations on pacing and hydrating.
Two other distinguished runners were invited to participated in the race, dubbed Breaking 2; Zersenay Tadese of Eritrea and Lelisa Desisa of Ethiopia both fell out of contention early on and finished several minutes behind.
Breaking2 was essentially part sporting event, part marketing campaign for the Zoom Vaporfly Elite, Nike's new lightweight running shoe with a carbon-fibre insole engineered with the race in mind.
The Breaking2 project was launched in 2014 in the hopes of breaking the elusive two-hour barrier based on a combination of Nike-led research, design, and of course, an incredible athleticism. A Formula One racetrack in Monza, Italy was chosen for the competition based on its wide curves and low-wind environment. The race began at 5:45 a.m., apparently the ideal time for perfect weather conditions, according to Nike. Competitors were aided by 30 world-class runners who took turns in groups of six keeping the pace to reach the record time. A Tesla Model S drove in front of the runners, projecting a laser green line to indicate the ideal speed.
Two hours of race coverage was also streamed live on Twitter and Facebook.
Although he didn't achieve Nike's ambitious goal, the 32-year-old Kipchoge remained optimistic. "This is not the end of the attempt of runners on two hours," he told Reuters, using the analogy of trying to climbing a tree. "When you step on the branches … immediately you go to the next one."
You can watch the entire race here.