So, You Want to Bet on the Kentucky Derby
You can actually do it online.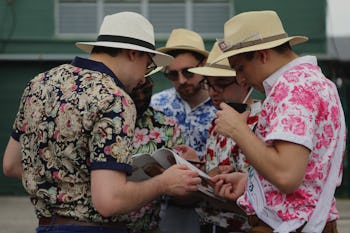 Getty Images
If you can't be in Louisville, Kentucky on Saturday to enjoy "the most exciting two minutes in sports," there's still a way to get in on the Kentucky Derby action. Unlike other forms of online gambling, horse betting happens to be completely legal across the United States on a federal level.
Churchill Downs, the racetrack that hosts the Kentucky Derby, also owns an online gambling company called Twinspires that will let you bet on this weekend's race.
Although betting is technically on the legal, it's pretty murky. Even though online horse betting is sanctioned on a federal level, individual state regulations about online gambling make placing your bets something of a murky legal territory.
In certain states that don't allow online gambling, you could in theory be charged with breaking the law, but because of all this legal contradiction, it seems that it would be highly unlikely, although it's not recommended in the slightest. After a lot of online digging, Inverse can tell you that it would honestly be best to do your own research before deciding to place your bets. If you sign up for an up-and-up betting site, it will also likely tell you whether or not you're permitted to gamble based on the state you live in. Here is one resource that lists which states allow online horse betting.
If you're still game, Twinspires offers a multitude of wagers for each race, but for simplicity's sake here are the three most basic:
Win wager: The horse you choose must win the race in order for you to win.
Place wager: You win if your horse finishes in the top two.
Show wager: You win if your horse finishes in the top three.
The highest payoff comes with a win wager, as it has the lowest chances.
For most, the minimum bet is a cool $2.00. There is also a slew of more obscure bets you can try out, if you want to get real complicated about it. Happy betting!
See Also: A.I. That Predicted Kentucky Derby Superfecta Reveals 2017 Bets