Google's New Self-Driving Cars May Cause Traffic
It's the first time the egg-shaped vehicles will be seen in public spaces.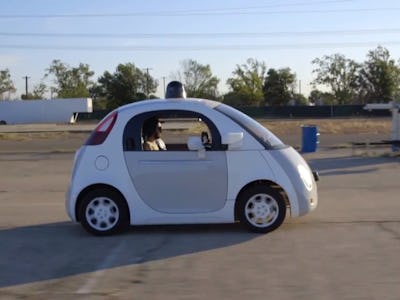 Google's fleet of self-driving cars is about to be unleashed on California's aging highway system, and that is awesome news for people who don't drive on California's aging highways.
On Friday, the tech giant announced that a handful of its autonomous vehicles will make their public debut in the Mountain View neighborhood around the 'Plex. The cars, which resemble tiny Smart vehicles, top out at speeds of 25 miles per hour and will carry humans, just in case.
Despite the fact that these egg-shaped cars have never been on public roads before, the software that's powering them has. Google's experimental armada of driverless Lexus RX450Hs has been trawling California's roads for the past few years. Driving systems aside, those are non-Google cars. What's remarkable about the new vehicles is not the "self-driving" modifier, but the noun itself. America is getting a new car company.
Google released a video preview announcing the cars and it all looks above board, but you better believe that the good people of Mountain View will be whining about the unique horror of beeping at a car without a driver. Google car don't care.