Jimmy Fallon Definitely Didn't Finish Episode 2 of 'S-Town'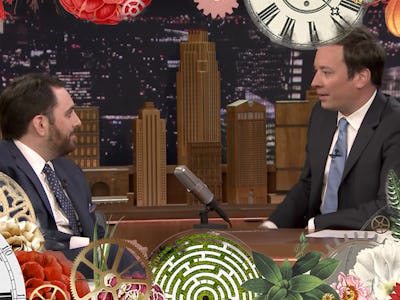 NBC
The latest podcast sensation, S-Town, released all seven of its episodes at once. There were a bunch of reasons for this, but one factor was preserving the big "twist" in the real-life story. Something major happens at the end of the second episode that changes the entire meaning of the show — and it sure seems like Tonight Show host Jimmy Fallon didn't get that far.
Spoiler Alert for the second episode of S-Town.
At the end of S-Town's second episode, we learn that the ostensible main character, John B. McLemore, committed suicide by drinking cyanide. During producer and host Brian Reed's interview on The Tonight Show, Fallon explicitly said that he was only on the second episode, and given the fascinated way he talked about McLemore in the present tense, it showed.
To be fair, Fallon could've just been keeping the big twist a secret from his audience — Reed did the same, slipping up only once or twice by referring to McLemore in the past tense before "correcting" himself. And, somebody on his staff must've told him that McLemore dies, but it's still quite a sight to see Fallon's glazed, doe-eyed persona stumble around the big twist.
Aside from that, the most interesting aspect of the interview, to people who have listened to the show, comes when Reed pulls out the gold-plated dime that McLemore made for him. Reed has tweeted images of the dime before, but it's still neat to see.
This wasn't the only S-Town appearance on late-night shows on Monday night. Over on Conan, the '60s rock band The Zombies played "A Rose For Emily," their 1968 song which has garnered renewed popularity since it plays at the end of every episode of S-Town. Check out that performance here, and watch the full Tonight Show interview below.