How to Watch 'Tokyo Ghoul' Before Season 3
You've got two good options, anime fans. It just depends whether you like anime subs or dubs.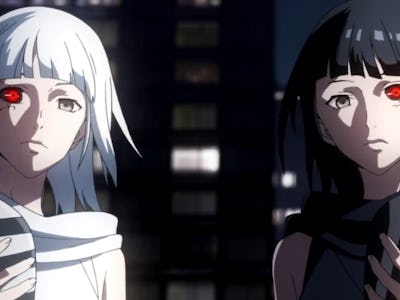 Script Anime
Tokyo Ghoul fans are in a bit of a tight spot: Season 3 of the anime, based on the manga series by Sui Ishida, has been delayed to make room for a Japanese live-action film. That means no new Tokyo Ghoul in any form for a few months. The story of Japanese half-demons living tumultuously among people has thrilled fans all over the world; if you're hoping to get on board with Tokyo Ghoul before the movie spreads its gospel even further, Seasons 1 and 2 are available in a couple disparate forms. Here's your plan of attack.
Stream Seasons 1 and 2 With Subtitles
Most anime purists tend to watch their shows in the original Japanese, using English subtitles. There are a lot of reasons you'd watch Tokyo Ghoul this way, but the primary one is that you don't lose as much in translation. Sometimes English dubs add or subtract dialogue, and they often get rid of Japanese terms of affection or suffixes meaning respect.
You can stream both seasons of Tokyo Ghoul in the original Japanese, or dubbed in English, on websites like Funimation. If you don't want to buy a subscription — though you should if you like anime — you can sign up for a two-week free trial and blast through those episodes in under two weeks.
Watch It Live on TV, Dubbed in English
Adult Swim has long maintained a healthy relationship with Japanese animation studios through its anime-centered tributary, Toonami. Tokyo Ghoul currently airs on Adult Swim on Sundays at 1 a.m., and the network releases each new episode on its website after they air.
If you don't care about preserving the original Japanese dialogue with subtitles, watching it on TV is a good option for those who want to experience the drama in real time. There's one level of American anime nerd who watches shows earlier online before they land in the U.S., and then there's the second-tier level of fandom, who considers American TV release the jumping-off point. Maybe that's you, in which case, just watch it on Adult Swim.
Tokyo Ghoul, the Japanese live-action film, debuts in Asia this July.