Neil Gaiman Shares How to Watch All of 'American Gods' for Free
by Monica Hunter-Hart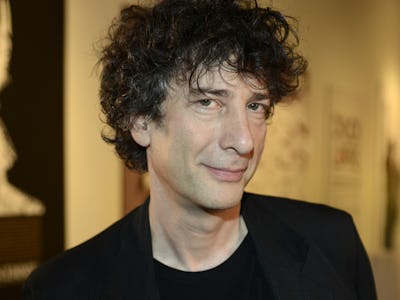 Getty Images / Tim Mosenfelder
Neil Gaiman's highly anticipated show American Gods, based on the popular eponymous book, will premiere this week on Starz. If you don't have a subscription to Starz, you're like most people in America. Luckily for you, Gaiman provided a sneaky, free solution to this problem in a recent interview.
"There are different ways to pay for it," he began, one of which includes not paying at all. He continued:
"You can download the Starz app and watch it. There's a Starz add-on to Amazon Prime to watch it. If you are incredibly cheap and grumpy, you could wait until week 8, 'cause it's gonna come out over 8 weeks, and then when you get to week 8 you could take a free Starz week. […] You could do that free week and watch it."
Gaiman is referring to a week-long free trial that Starz offers. Although maybe Starz will rethink offering it in the future if all the new customers the company was hoping to secure with the high-profile addition of American Gods just binge-watch the show during the trial.
"Yeah, this is not part of the Starz talking points," joked interviewer Peter Kafka.
If you are willing to pay to watch American Gods, Gaiman has plenty of advice for you, too. He even tweeted out an extremely useful diagram.
In sum: If you live in America and want to see the show as it premieres, you'll need to subscribe to Starz. But if you don't mind waiting until the final episode of the first season is released on June 18, you can binge-watch the whole thing with Starz's 7-day free trial. Of course, then, in the eyes of Neil Gaiman, you will be "incredibly cheap and grumpy."
American Gods premieres April 30. Don't miss this show; it may just be the next Game of Thrones.