'Alien: Covenant' Oculus Experience Is From the POV of Chest-Burster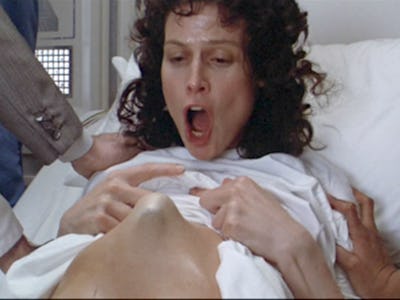 20th Century Fox
If you've ever wondered what it's like to be an alien living inside a person's body, ready to burst out and kill people at any moment, this is your chance. Alien: Covenant In Utero is a new "virtual reality experience" from 20th Century Fox available for Oculus Rift that allows its users to become a Neomorph, the new alien that will be introduced in the upcoming Alien: Covenant.
A brief trailer for the new VR experience is a mind-boggling combination of muffled screams, screeching sound effects, and typical in utero sounds — namely, swishing liquid and distant heartbeats. It's a blink-and-you'll-miss-it trailer, with the "action" only lasting for 10 seconds before the Covenant logo flashes onscreen.
The screaming, which is panicked, hysterical, and only from women, harkens back to Sigourney Weaver's in-utero chest-burster in Aliens and Noomi Rapace's self-inflicted, machine-performed C-section in Prometheus. It's a little gag-inducing in, maybe, not the best way.
But this VR experience from Oculus is clearly hinting at more chest-bursting and possible C-sections to come in the upcoming Alien: Covenant.
Alien: Covenant In Utero is available April 26 according to 20th Century Fox's official Twitter account.
Alien: Covenant premieres in theaters May 19, 2017.