The 5 Essential Sci-Fi Movies For Summer 2017
From 'Alien: Covenant' to 'Valerian and the City of a Thousand Planets.'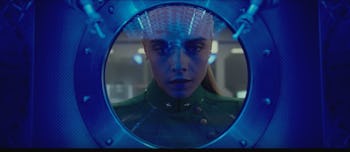 STX Entertainment/Facebook 
Summer 2017 movie season approaches, and while our current era is one of tentpole superhero movies, 2017 promises to be the most sizzling in science fiction. In fact, the biggest summer tentpoles might just be sci-fi movies, Wonder Woman aside. Big franchises like Transformers are coming to an end, another Alien movie is coming out, and Luc Besson is making his first return to big-budget splashy sci-fi since The Fifth Element.
And that's not even mentioning Stephen King's epic Dark Tower series making its big screen debut, or another entry in the Planet of the Apes franchise. Here are all the sci-fi movies to keep tabs on, ranked in order of release date.
1. Alien: Covenant
The latest entry in Ridley Scott's classic Alien franchise — which can be considered Prometheus 2 — follows the crew of the Colony ship Covenant as they explore a world they think is utopian. Spoiler alert, it isn't. Chaos and dark space-horror ensue.
Release Date: May 19, 2017
2. War for the Planet of the Apes
The third entry in the Planet of the Apes franchise follows Caesar as he fights for the future of his kind against a bloodthirsty human Colonel, a new villain played by Woody Harrelson.
Release Date: July 29, 2017
3. Transformers: The Last Knight
The Transformers franchise thunders on with its fifth installment. It centers around an unlikely alliance between Cade, Yeagar, Bumblebee, an English Lord played by Anthony Hopkins, and an Oxford professor.
Release date: June 23, 2017
4. Valerian and the City of a Thousand Planets
Based on a popular French graphic novel Valérian and Laureline, Luc Besson's colorful science fiction epic is Star Wars meets Jupiter Ascending, complete with a shapeshifting Rhianna because why the hell not? Considering the fact that the film's footage got a standing ovation when it screened at San Diego Comic-Con, this could be the launch of a promising new sci-fi franchise. At the very least, you'll be hearing this movie's name a lot this summer.
Release date: July 21, 2017
5. The Dark Tower
"The man in back fled across the desert and the gunslinger followed" is one of the most iconic first lines in fiction, and now it's finally coming to life onscreen. With Idris Elba playing the iconic Gunslinger and Matthew McConaughey as the nefarious Man in Black, Stephen King's most epic series is getting a proper big screen treatment.
Release date: August 4, 2017