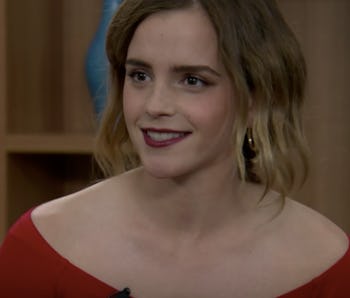 Culture
Emma Watson Says Social Media is Making Celebrities Out of All of Us
"They're experiencing exactly what I'm experiencing."
screenshot /Periscope
The scrutiny, surveillance, and 24/7 attention that comes with celebrity status is now becoming a facet of everyday life thanks to social media, according to Emma Watson.
In an interview Monday on Periscope, Watson sat down with fellow The Circle stars Tom Hanks, Paton Oswalt, and director James Ponsoldt to discuss the film's themes of surveillance and interconnectivity.
Based on the 2013 novel by Dave Eggers, The Circle follows a young woman named Mae (played by Watson) as she navigates her new job at a massive, futuristic social network. After signing up for a company-run experiment, she begins to experience the sinister effects of constant surveillance and its far-reaching consequences.
Fittingly, the conversation took place at Twitter headquarters in San Francisco and was moderated by CEO Jack Dorsey. Jumping back and forth from topics as wide ranging as gender-inclusivity in tech to Pizzagate, the group discussed the many ways social media and personal networks like Instagram and Twitter have impacted society at large — and how having constant access to an attentive online community can take an emotional toll.
The odd and exhausting feeling of constant surveillance — not to mention the responsibility to engage with the online world — certainly isn't foreign to any celebrity, but Watson believes those experiences are becoming much more commonplace.
"What's crazy is I feel like it's becoming so much more relatable," she says. "Fame isn't something experienced by just celebrities anymore. To a certain degree, everyone who uses social media or has a social media platform is broadcasting themselves, marketing themselves, sharing intimate details of their lives. They're receiving comments; they're receiving likes, dislikes; they're experiencing exactly what I'm experiencing."
Oswalt somewhat echoed Watson's sentiments, although he chose a darker way of putting it: "Fame is no longer being achieved anymore. It's being inflicted now."
The Circle opens in theaters April 28, 2017.