Kendrick Lamar Isn't Releasing a New Album, He Claims
"ThankU 4 the desire of always anticipating new music of my own. None is coming."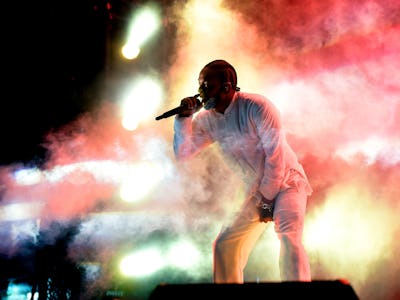 Getty Images / Kevin Winter
When Kendrick Lamar released his latest studio album, DAMN., on Good Friday, fans were elated to have a new LP from one of the greatest living rappers. But, people always want more. Shortly after the record's release, internet sleuths concocted an admittedly plausible theory that K. Dot was going to surprise-release a follow-up, NATION. in the coming days. Well, he didn't, and on Friday, Kendrick confirmed that the theory was bunk.
"ThankU 4 the desire of always anticipating new music of my own," the Compton rapper wrote on Twitter. "None is coming."
The DAMNATION theory, if we're going to call it that, was based on some clues that, apparently, weren't real. Fans tried to make an anagram out of the last letter of every track on DAMN. and made religious connections between Kendrick's lyrics and the then-upcoming Easter Sunday. The rapper has gone down the surprise-release route before — since 2016's untitled unmastered. was unexpected — but nothing quite like dropping a second studio album just days after his long-awaited follow-up to To Pimp a Butterfly.
Honestly, though, that's fine. Kendrick's music is dense. From early listens, DAMN. is a terrific album, (and "DNA" is a straight-up banger), but there's a lot to unpack in his lyrics and subtleties to his beats and flow waiting for listeners to unravel. We're probably better off just spending more time with DAMN. because another album so soon would just be overwhelming and steal focus.
DAMN. is now streaming at all the usual places.