What Do You Hate Most About 2017? Here's Your Atwood Remedy
'The Handmaid's Tale'? 'The Heart Goes Last'? Chose your own adventure for Trump's America.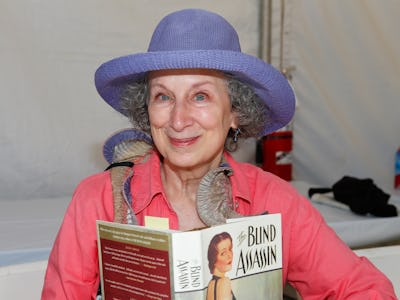 Getty Images / Imeh Akpanudosen
Margaret Atwood is known for many things: Being immensely quotable, having killer hat game, and mocking Stephen Harper's hair. But her biggest accomplishment is writing novels that beautifully help you work through an issue that pisses you off. Her ideas are grand, her prose is lyrical, her plots range from languid and meditative to completely bonkers, and she nails the line between the big picture and the mundane moments.
2017 is a year in which there's an exceptional amount of things to be pissed about, especially in America. Here's a "choose your own adventure" of Atwood's body of work.
1. Jeff Sessions and the American Justice System
The criminal justice system is an ongoing problem in every country, except maybe Norway. But particularly in America, it contributes to systemic racism and classism. And in 2017, the American Attorney General is Jeff Sessions, a man who was deemed too racist to be a federal judge in 1986 and has lied about his meetings with Russia. Does this corruption piss you off? Read Atwood's novel The Heart Goes Last, which frames a sly and completely bonkers story around for-profit prisons.
It follows a down on their luck, economically depressed couple as they agree to be part of a for-profit prison system without quite realizing what they're signing on for. The ensuing story involves murder, affairs, conspiracies, sex robots, and copious sinister schemes. It's fun but unabashedly nutty.
If you want a more subdued affair, Atwood's novel Hag-seed is also set against a prison backdrop, playing fast and loose with the plot of Shakespeare's The Tempest.
2. The Defunding of Planned Parenthood and Setback for Women's Rights
Countless women rely on Planned Parenthood for their health, as it provides sex education, STI treatment, contraceptives, and cancer screenings. Abortions denote a grand total of three percent of its work. President Donald Trump has signed a bill that allows states to deny funding to it, essentially leaving women's bodies and health in the hands of their elected officials.
Margaret Atwood's classic novel and soon to be television series, The Handmaid's Tale, takes this concept to its natural conclusion. Every aspect of women's lives are policed and owned by the men around them. They can't own property, read, or even have their own names. The protagonist must serve as a glorified concubine to a government official, all the while reflecting on her former life and how the world became this way. It's chilling, and despite the fact that it was written in the 1980s, it has never been more timely.
3. Rollbacks on Environmental Regulations
Through executive orders, Donald Trump is rolling back environmental regulations on clean water and greenhouse gas emissions. Scott Pruitt, the head of the Environmental Protections Agency, is a climate change denier. If you care about the environment, chances are you're pissed.
If this is your main issue, read Atwood's dystopian MaddAddam trilogy, which begins with Oryx and Crake, continues with The Year of the Flood, and finishes with MaddAddam, which revolves around corporate greed and its impact on the environment. It also follows religious sects and what happens to society after the social order has broken down.
4. Unethical Rich Businessmen Continuing to Profit Most
Donald Trump had a fake university that scammed students and discussed sexually assaulting women on tape, and he's now in the White House. Bill O'Reilly was fired for sexual assault but got a $25 million severance package. Roger Ailes was also fired for sexual assault and also received a $40 million severance package. If you're pissed off by rich white dudes coming out on top in spite of blatantly breaking laws and violating others, read Atwood's The Blind Assassin.
In it, the protagonist, Iris, recounts her life, which involves an unhappy marriage to a man of this nature. There's a story within the story that's a gloriously fun sci-fi space opera, and her struggle with her husband takes an unexpected turn. To say anything more would spoil it, but suffice it to say he doesn't get a happy ending.
The first three episodes of The Handmaid's Tale are now streaming on Hulu.