Anime and Vampires Meet 'Dark Souls' in 'Code Vein'
It looks like there will be plenty of blood in Bandi Namco's latest project.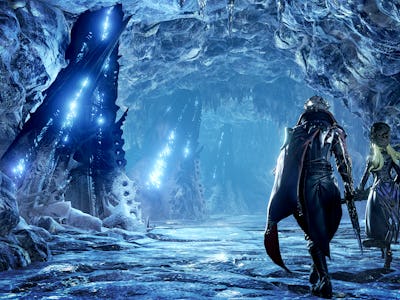 Bandai Namco Entertainment
Just last week, Bandai Namco Entertainment teased their upcoming video game project with a gorgeous 30-second trailer showing off a highly-stylized world covered in twisted shadow-like enemies, vampires, and what appeared to be hunters armed to the teeth wiping them out with the tagline, "Prepare to dine." Naturally, many players assumed this was a connection to From Software's infamous "Prepare to die" tagline for Dark Souls, but it looks like that isn't the case. Instead, we're looking at a mix of anime vampires meeting Dark Souls or Bloodborne, which looks absolutely epic in the images released alongside the announcement.
Today the company officially confirmed the teased title as Code Vein, an anime-style post-apocalyptic action role-playing game being developed by Bandai Namco Studios. Set in the not too distant further on Earth, Code Vein puts players in the shoes of a Revenant following a mysterious disaster which brought up the collapse of life as we known it. Now, at the center of this destruction, the remaining few are fighting to survive by defending the last remaining stronghold against the fiends covering the planet known as Vein.
To better equip yourself to handle the hostile environment surrounding Vein, you'll sacrifice your memories in exchange for gifts of power and a thirst for blood (you know, Vampires) which will allow you to stand toe-to-toe with the vicious fiends and bosses scattered about the in-game map. You'll also get access machines known as Blood Veils (what appear to be the character's face masks) to assist you during your journey, which you can use to drain the blood of your enemies and enhance your own abilities with, customizing your character to match your personal playstyle in the process.
According to the press release, you'll be able to recruit a companion from Vein to assist you too, although it's currently unclear if this means cooperative play is going to make its way into Code Vein at some point or if you'll be venturing around with an A.I. controlled buddy.
Either way, Code Vein seems like a really promising project akin to something we'd usually see coming from renowned Dark Souls and Bloodborne developer From Software with vampires, anime, and stylized art mixed into the design. While I will admit, I was hoping for in-game visuals more along the lines of the art from the teaser trailer, there's no doubt that Code Vein is an upcoming game worth keeping an eye on as we get closer to its 2018 release.