4 Other Neil Gaiman Books to Read if You Love 'American Gods'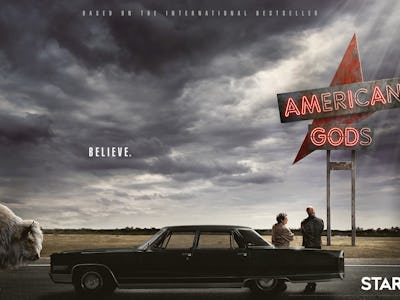 Starz
Starz's upcoming American Gods is based on Neil Gaiman's 2001 novel of the same name, and, so far, it looks to be sticking rather firmly to canon. "Belief" is the biggest theme in American Gods by far, and its eccentric cast of characters — made up of literal gods and criminals alike — struggle with the effects that belief, or lack thereof, has on them every day.
Gaiman's American Gods doesn't have a sequel per se, but the award-winning author has always been known to stick with similar themes in his novels and short stories. So, if you're interested in what American Gods has to offer, you're in good hands. Here are four other Gaiman novels to pick up if you like what American Gods is throwing down.
Themes of disbelief and discovery run rampant through Gaiman's The Ocean at the End of the Lane. Originally intended as a novella for his wife, Amanda Palmer, The Ocean at the End of the Lane soon grew to be a novel and one of Gaiman's most grounded (yet weird) books yet.
The unnamed narrator of the story returns to his childhood home for a funeral and slowly begins to remember a series of misadventures — each more unexplainable than the last — that he had with his neighbor Lettie Hempstock. It involves wormholes and heart-eating birds, as well as a pond that's actually an ocean. We promise it all makes sense in the end.
For a dose of fantastical elements and otherworldly locations, try out Neverwhere. While none of the characters are gods, there is an angel involved (who was voiced by Benedict Cumberbatch in a radio drama version of the novel), and Gaiman has hinted time and time again at a potential sequel, so it's still a good idea to get attached.
Neverwhere follows Richard Mayhew, who ends up accidentally discovering the world of London Below, a magical realm which coexists with the real world, London Above. He's pulled into this world by a girl named Door, who takes on a bodyguard named Hunter. It's a dark tale of magic, family, and, yes, Heaven and Hell. Gaiman really likes religious overtures.
For yet another battle over the power of belief and the role of the gods themselves, look no further than Anansi Boys. You might even recognize a familiar face, as there's a bit of crossover between American Gods and Anansi Boys.
Shortly after the death of Mr. Nancy — the African trickster god Anansi, portrayed by Orlando Jones in American Gods — his two sons discover each other. One, Charlie, is painfully human and lives in London. The other, known only as "Spider," is, essentially, another Mr. Nancy with similar powers and habits. If anything, this story proves that gods have ghosts and it connects with American Gods by confirming that Anansi was once in a war.
If the religion angle is what gets you about American Gods, then definitely pick up a copy of Good Omens, the joint effort of Gaiman and author Terry Pratchett. It's all about the Apocalypse, the end of days prophesized in the Bible, and the birth and life of the Antichrist, the son of Satan. It's a satirical comedy.
Both sides — Heaven and Hell — are convinced that the Apocalypse has to happen. That's the way it's written, after all. But the angel Aziraphale and the demon Crowley, good friends and the representatives of Heaven and Hell, respectively, on Earth, are pretty comfortable with the way things are. Someone misplaces the Antichrist (oops) and there's a book of prophecies involved.
American Gods premieres on Starz April 30, 2017.