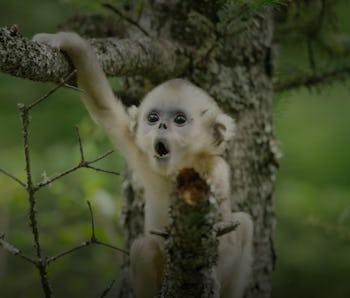 Science
Disney's Doc 'Born in China' Reveals a China You've Never Seen
DisneyNature
The newest documentary from Disney Nature, Born in China, pans away from the country's notoriously bustling, smog-choked cities to the pristine plateaus and lush jungles hundreds of miles away. There, audiences get intimate with the five animals most central to the country's culture: the giant panda, the crane, the golden monkey, the chiru, and the elusive snow leopard. Though the appeal of these animals is timeless, the timing of this film's release may puzzle audiences. Why is Disney making a movie about China now?
On April 7, the film's director, Lu Chuan, and its producer, Disney veteran Roy Conli, dropped by Inverse's office in New York to discuss why the film was so important to make. Chuan, an acclaimed Chinese live-action film director, explained that his reasons for taking Disney's offer were largely rooted in the restrictions modern Chinese culture places on people in his field.
"As a feature film director, I thought, 'If I don't take the chance to do the job, I will never have the chance, again, in China, to make a movie only for the wild animals'," Chuan said. "In China there's no investor who wants to spend on this kind of project."
Earlier in the interview, he noted that Chinese wildlife is rarely given the attention it needs, both within China and internationally. While it comes as no surprise that Western media largely focuses on the environmental and political problems plaguing the country, the dearth of Chinese media focusing on the country's animals may not be so obvious. As Chuan explained, even Chinese audiences don't really know what they're missing. Early screenings of Born in China, Conli later noted, went over extremely well with Chinese audiences — perhaps because the animals and environments were new to them, too.
Fielding questions about the amount of footage it took to piece together the animals' stories ("500 hours of footage distilled into 75 minutes of film") and the film's most touching moments (the chiru birth scene), Chuan said that his experience working on the film had some personal upsides, as well.
"Some moments you have to be very patient, the weather changes a lot, and you cannot see any wild animals in front of you camera. You have to be patient," he said, reiterating how much patience it required to make a full-length movie about animals that, like the snow leopard, have only been seen in real life a handful of times. But the payoff, he says, was worth it.
"But I feel so free on set. I feel so honest with myself," he said. "I would rather deal with wild animals than human beings."