Bill Nye Suggests Self-Driving Cars Will Change the Economy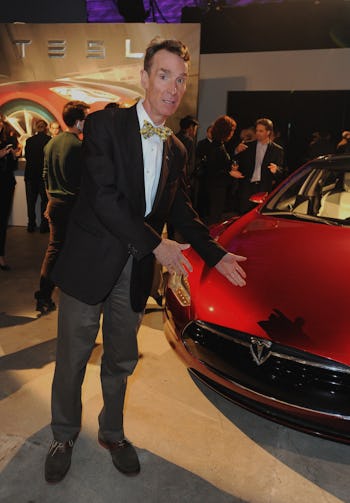 Getty Images / Jordan Strauss
Bill Nye wants to save the world, and he thinks autonomous cars might help him do it. During a Reddit AMA session on Wednesday, Nye said that autonomous cars are the next big thing, and they're going to help engender a domino effect in the economy that pushes the world closer toward sustainable energy. And it starts with truck drivers.
Nye went on Reddit to promote his new Netflix series Bill Nye Saves the World. As part of the AMA, he was asked about the future of jobs in light of increasing automation, which he was qualified to answer as someone trying to "save the world." Nye's response highlighted autonomous vehicles as the big source of imminent change, moving drivers into different professions. And while he only touched on some of the impacts of autonomous cars, he highlights an important shift in the economy towards green energy. He wrote:
"Self-driving vehicles seem to me to be the next Big Thing. Think of all the drivers, who will be able to do something more challenging and productive with their work day. They could be erecting wind turbines, installing photovoltaic panels, and running distributed grid power lines. Woo hoo!"
Nye probably didn't mean to throw shade at truck drivers by implying their profession wasn't challenging or productive, but he's right that autonomous trucking will have a major impact on the economy. There are 3.5 million truck drivers in the country according to the American Trucking Association, and the total industry employees 7.3 million people.
The widespread introduction of autonomous trucking will have a major impact on these people, and ripple out to the larger economy if truckers become unemployed. People like Elon Musk have taken a more positive look on this, saying that truckers are likely to become fleet managers who work to get a bunch of autonomous trucks across the country.
But even in that scenario, Nye is right to point out that it's a large industry that is on the brink of a major change. Autonomous trucks have already started appearing on the roads, with the landmark beer delivery by Otto's autonomous truck in October marking what is likely to be the beginning of the trucking revolution.
However, Nye doesn't focus on the negative effects automation might cause for the trucking industry. Instead, he mentions that the millions of people affected could be moved into different industries that have a green-energy impact.
While employing former truck drivers as green-energy workers might sound like a pipe dream, the solar jobs industry grew 17 times faster than the rest of the economy in 2016. Solar and other green energy are likely to be a source of blue-collar jobs for the next generation. And with car companies starting to focus on electric engines alongside autonomous cars, the green industry sector is likely to offer jobs as trucking starts to lose them. With that in mind, it makes a little more sense how Nye sees the changes in the trucking industry as deserving of a "Woo hoo!"