Watch a Horror VR Movie Trailer With the Star of the New 'It'
An exclusive look at the VR Film 'Alteration.'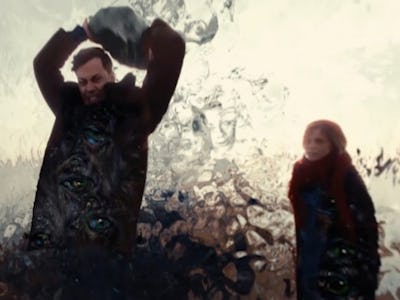 The Singularity is even more terrifying when it's happening in virtual reality — and includes a vampire.
The new VR short Alteration, which makes its debut at the Tribeca Film Festival in New York next week, preys on some of society's biggest fears about both the future and the afterlife. The film's log line alone is terrifying: "Alexandro volunteers for an experiment carried out to study dreams… He can't imagine that he will be subjected to the intrusion of Elsa, a form of Artificial Intelligence who aims to digitize his subconscious in order to feed off of it. She's a vampire…bit by megabit."
The short — the exclusive teaser for which you can watch below — was made by a team of French filmmakers, including director Jérôme Blanquet and producer Antoine Cayrol. It stars Guardians of the Galaxy Vol. 2 co-star Pom Klementieff and the star of the upcoming It remake, Bill Skarsgård, who will play Pennywise the Clown and thus has mastered how to be creepy. That the entire film was shot in 360 degrees only adds to the experience.
"Alteration was shot with three pairs of cameras to capture 360 degree picture and stereo," Cayrol tells Inverse. "The main software used were Nuke for the compositing, 3ds for 3D, and a bunch of in-house software, of course."
Stitching all the footage from the three sets of cameras together was one of the biggest challenges they faced, as they tried to preserve the nuance of the actors' performances. Every movement had to be precise, and caught by the right camera, so that stitching it all together would create a seamless nightmare.
The scrambled visual effects, as you can see in the trailer, added another layer of technical difficulty, as well as another reason to feel thoroughly creeped out with the VR goggles on.
Alteration will be on display at the Tribeca Film Festival's Virtual Arcade from April 21-28.