Warwick Davis Trolls 'Star Wars' Fans in New Han Solo Video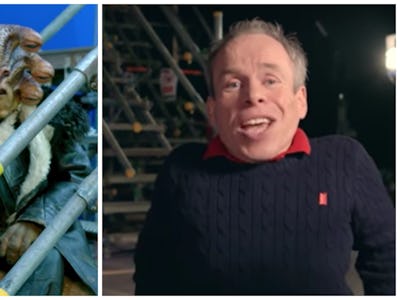 omaze Force For Change
In a new spoiler-free set tour of the Han Solo movie, actor Warwick Davis lampooned the culture of spoilers, while directors Chris Miller and Phil Lord showed off one classic-looking Star Wars alien.
On Tuesday, a new promotion for Omaze's "Force for Change" charity initiative was published on the Star Wars YouTube Channel. In it, Warwick Davis (famous for playing Wicket the Ewok in Return of the Jedi) teases fans with a secret "spoiler-free" set tour of the Han Solo movie. In donating to Omaze (which supports Unicef and other charities), fans are entered to win prizes, one of which includes getting a cameo in the Han Solo movie. But, because Davis's set tour was sarcastically billed as "spoiler free," almost nothing was shown.
In on this joke were Chris Miller and Phil Lord, co-directors of the standalone Han Solo movie. When Davis implored them not to show anything, the camera revealed a multi-eyed alien, similar to the kind of three-eyed creature chilling in Jabba's palace in Return of the Jedi. But this new guy has six eyes.
After this point, everyone jokes that Warwick Davis himself is a spoiler, since he has some unrevealed role in the Han Solo movie, too. Lord and Miller are clearly having the best time of any Star Wars directors to date, but other than the great bomber jacket this new alien is rocking, we know nothing about this new alien.
Watch the video below:
The Han Solo movie is scheduled to release sometime in May 2018.