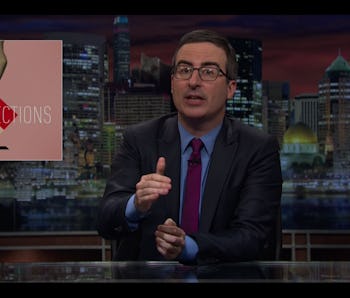 Entertainment
John Oliver: "The Fate of Europe" Rests on France's Elections
The 'Last Week Tonight' host covered the four major candidates.
Last Week Tonight/YouTube
France is set to hold the first round of its presidential elections this month, and John Oliver thinks we aren't paying enough attention. The Last Week Tonight host dedicated an episode of his show on Sunday to the contest, with four candidates outlining very different visions of the future. Marine Le Pen, the candidate of the far-right National Front, is one of the frontrunners.
"The fate of Europe rests in the hands of a country that looks at snails and says 'I have got to get you in my mouth,'" Oliver said.
France votes for its president in two stages measured on a nationwide popular vote. The first stage, set to take place April 23, sees every candidate competing to claim more than 50 percent of the vote. If nobody succeeds, a second round will be held on May 7 between the two candidates with the most votes from the first round.
François Hollande, the current president from the Socialist Party, France's major center-left party, has been historically unpopular. Polls place his popularity as low as 4 percent, and under his leadership, France's unemployment rate has reached as high as 10 percent. He is not running for a second term, and his party's new candidate, Benoît Hamon, is not expected to make the second round.
Alongside Hamon, there are ten other candidates, some of which have some rather outlandish views. Jacques Cheminade, for example, is a conspiracy theorist that wants to colonize Mars. Like Hamon, Cheminade is not expected to make the second round, but on the campaign trail, he has produced some fantastic soundbites.
"Today, we don't have an actual space policy," Cheminade said at a public event. "We drag rickety obsolete objects like the old Star Wars rocket. So it works out in Star Wars, with the weird bear and Larry Skywalker, but it doesn't work in real life."
Jean-Luc Mélenchon, the candidate for the left-wing Unsubmissive France movement, is one of the four that could make the second round. Beyond his policies and debate performances, he's made headlines for making rally appearances in multiple locations through the use of holograms.
"That was both very lame and very costly," Oliver said. "It's like finding out your uncle's detachable thumb trick cost him $400,000."
François Fillon, from France's major center-right party, the Republicans, is another of the four frontrunners. His campaign has been marred by scandals — including "Penelopegate" in which his wife and children were employed in nonexistent jobs — and an investigation into whether he broke electoral rules by receiving the gift of two expensive suits.
Emmanuel Macron, a pro-business, pro-EU candidate, has never held elected office, but his liberal centrism has propelled him forward as one of the frontrunners. Ian Bremmer, head of the Eurasia Group, described him as "not super attractive to anyone."
But commentators are concerned that Le Pen could pose a strong challenge to the other three. Her party was founded by her father, a man who described the Holocaust as a "detail" in history. Although Le Pen has sought to detoxify her party, comments on the campaign trail reveal the ugly truth of the National Front's ideology, with Le Pen calling for a national ban on religious imagery in public.
"A klansman is still a klansman even if you slap a monocle and a top hat on it and give him a cane," Oliver said.
To appeal to a French audience to stop Le Pen, Oliver dimmed the lights, lit a cigarette, and gave a speech entirely in French.
"I know a British man speaking on an American show about the Republic of France is basically French kryptonite," Oliver said. "That's why I'm speaking French to you right now, even though I know I'm making your elegant language sound like a Guy Ritchie remake of Amelie."
"Help us France, you're our only hope," Oliver said.
Last Week Tonight airs Sundays on HBO.