There Was an Entire Extra Character Who Was Cut From 'Split'
He's in a bunch of deleted scenes on the Blu-ray.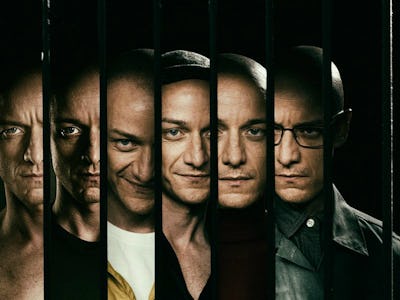 There are lots of characters in M. Night Shyamalan's acclaimed horror film Split, although a bunch of them are all technically the same character as played by James McAvoy. However, deleted scenes on the upcoming Blu-ray release reveal that there was an entirely new character who appeared in several scenes played by The People v. O.J. Simpson star Sterling K. Brown who didn't make the final cut.
"There's a character in the movie that I cut out and it really killed me to cut this character out," Shyamalan says, explaining that Brown's character, Shaw, would've helped expand on Dr. Fletcher's character and illuminate some of Split's shaky science.
"He plays Dr. Fletcher's neighbor, and he's a professor of the brain and he teaches neuroscience and what the brain's capable of. All of his scenes were sort of meant to talk about what the brain is capable of, but it was also meant to show a bit of Dr. Fletcher's loneliness. Dr. Fletcher kind of has a crush on this kind of younger professor who lives in the apartment building and I love that kind of unrequited relationship that they have. And then he comes to realize, 'Oh my gosh, she really has a crush on me, this is really awkward.'"
Over the course of three scenes which total up to about six minutes of cut content, Fletcher stops by Shaw's apartment to talk about her theories and awkwardly pine for him, even as he's having a party or has a date over.
"Sometimes I think I'm obsessed with [Dissociative Identity Disorder] patients because I envy them," Fletcher says at the end of the last scene featuring Shaw.
"How so?" he responds.
"They're never alone," Fletcher says, wistfully.
Although the scenes are interesting, they seem somewhat disconnected from the rest of the movie, which is why Shyamalan axed them.
"Ultimately, this whole sequence didn't make it into the movie because they weren't directly dealing with the case of Kevin Wendell Crumb," Shyamalan explained. "When you put a movie together [with] the pressure of a thriller, it just won't allow anything that isn't trying to solve the exact problem that the movie is based on. It's an error on my part kind of falling in love with characters and falling in love with a relationship that's not worshiping the God of Plot."
You can watch all of the deleted scenes on the Blu-ray, which comes out on April 18, 2017, or via digital download right now.