8 Comics and Manga to Read After 'Ghost in the Shell'
If you like your cyborgs horrified and plagued with existential crises, you'll love these comics and manga.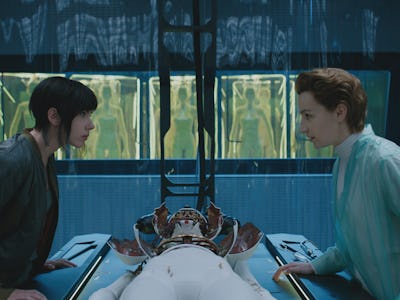 Dreamworks Pictures
The American film adaptation of Ghost in the Shell, starring Scarlett Johansson, tanked at the box office in its opening weekend. The studio blamed all the controversy on social media regarding Johansson playing a traditionally Japanese role, aka "whitewashing," but many critics said the film was simply a shotty version of one of the greatest stories about artificial intelligence ever written.
In its original manga, Ghost in the Shell tells the story of a human brain in a cybernetic body as the collective being, Major Motoko, fights street crime and tries to decide whether she's fully human or machine. Many comics have come, in part, from the same basic set-up as Ghost in the Shell, but few rival Masamune Shirow's original. We've put together a list of truly exceptional comic books and manga about cybernetic human enhancements, cyborgs, androids, and artificial intelligence, just in case Ghost in the Shell isn't enough to light you up.
Descender, Image
Written by Jeff Lemire with art by Dustin Nguyen, Descender follows a robot boy designed as a companion for human children as it navigates a galaxy in which war has broken out between humans and A.I. His love for his human best friend makes him something more than simply a robot, and he's torn between two worlds.
Cyborg, DC
Our first look at the DCEU's movie Cyborg was pretty horrifying, and DC's current comic book run on the character is similarly scary. Cyborg plays out the battle between man and machine as an intimate and personal body horror story.
The Vision, Marvel
Marvel's The Vision by Tom King was one of, if not the absolute, best comics published in 2016. After he comes to "life" as a part of the Ultron storyline, android Vision creates a family for himself. When he, his wife, and their two android children try to build a life for themselves in suburbia, things quickly go awry. For one thing, Vision is still in love with Wanda, aka Scarlet Witch, and his family is plagued by supervillains like any other. It's a truly wild ride.
Alex + Ada, Image
When Alex loses his human girlfriend, his mother sends him Ada, a synthetic woman meant to heal his wounds and keep him company. The relationship that unfolds between the two characters mirrors Her in many ways, and in falling in love with Ada, both Alex and the reader begin to question their prior notions of what makes someone "human."
We3, Vertigo
Warning: Do not read Grant Morrison's We3 unless you're in a private space, as every first-time reader is guaranteed to ugly sob their way through the comic's ending. One part Homeward Bound and one part Iron Giant, We3 follows the dangerous journey of three household pets made into mechanical weapons. Using their enhanced brains, the half-cyborg cat, dog, and bunny decide to pursue "home," which they define as "home = can stop running."
Battle Angel Alita, Viz
Alita has its own upcoming live-action adaptation, and it's so similar to Ghost in the Shell that the studio will have to make many changes to differentiate it. Alita, a cyborg, wakes up in a pile of trash and can't remember who she is or how she got there. What unfolds after her awakening will shock readers who are uncomfortable with the notion of a "soul."
Batgirl, DC
Barbara Gordon has always been a tech whiz, but DC's latest take on Batgirl updated her interests to fit our current times. As she exists now, Batgirl lives in Burnside (the Bushwick of Gotham), where she attends grad school and designs apps. A supervillain hacks into her cybernetic memory enhancements, which calls her entire team to action. The story is brightly colored and campy, though the horror of having one's brain hacked doesn't feel like that far-off of a threat.
All the above comics are available now at comics retailers and online.