FUTURE CITIES: Vancouver
How a city built for car owners is changing its ways.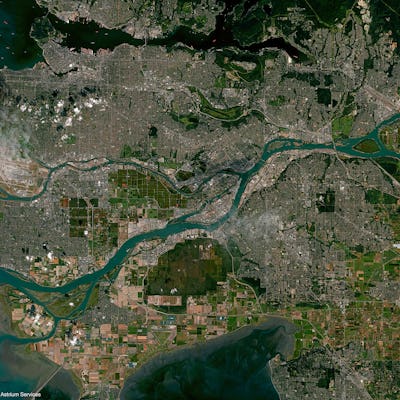 Vancouver gets good press. The city is invariably described by trend piece scribes as healthy, prosperous, livable, or all three. Its proximity to the mountains draws lovers of the outdoors; its everyman architecture and tax incentives draw filmmakers; its harbor draws in big boats and money from China, bolstering a massive shipping industry. But Vancouver is, among many good things, also a victim of its own success. The city is gaining a domestic reputation for being crowded. The air remains clean and the quality of life remains high, but unused land has become nearly impossible to find. With the city preparing to add a million residents by the year 2041, something's got to give — and it's not going to be the Pacific Range.
City leaders expect that the change will largely be about altering expectations. Around 80 percent of incoming residents will likely live in existing neighborhoods, which means locals will have to make peace with the idea of downsizing their footprint, if not their homes. Taller buildings will house many, but public spaces can only go up so far. There will be more cars on the roads and more need for creative solutions to, in particular, transportation problems.
"With increasing population density, shifting away from cars and towards more efficient and sustainable modes of transit is crucial," says Dr. Alex Bigazzi, a professor at the University of British Columbia's department of civil engineering. "Currently, private auto travel is a large and disproportionate burden for urban transportation systems. There's simply not enough space for the roads and parking that's necessary to accommodate car travel for all the new residents."
National and regional authorities in Canada are well aware of the challenges ahead, and politicians are busy constructing plans to scale up Vancouver's transit operations. Last year, Prime Minister Justin Trudeau announced funding of $768 million Canadian for city transport, while public transport authority TransLink offered up a further $125 million Canadian of support. This money will go toward modernizing metro stations, extending current subway services, upgrading bus and rail interchanges, and improving commuter infrastructure.
But, like most North American cities, Vancouver was built to accommodate car owners. An estimated 30 percent of Vancouver's land is covered by roads, parking lots, and alleyways — enough pavement to stretch from New York to Atlanta. Even so, the city is the most congested in Canada. Repurposing these spaces effectively will be a critical part of making the city move again. And the solution won't just be about optimizing for Nissan Ultimas.
"Walking and cycling can have a big influence on reducing car travel. But in order to be effective, measures such as improved transit and car-sharing options must be promoted," says Bigazzi, adding that changing the behavior of citizens often comes down to disincentives and incentives for different modes of transport. Taxes and parking restrictions, for example, tend to put people off driving, while cheap, regular, and reliable public transit can motivate people to leave the car at home and jump on a bus or bike instead.
Back in 2012, the city of Vancouver set itself the goal of enabling 50 percent of all trips to be made by foot, bike, or public transport by 2020. The city achieved this goal within four years, a period which also saw record numbers of people making journeys on the transit network. This year, even more commuter journeys are expected, and the goal has shifted towards making two-thirds of all trips sustainable by 2040.
"The role of the private vehicle is changing in Vancouver. We have to increase the choices available to people so they don't require their own private vehicle to meet their daily mobility needs," says Jag Sandhu, a communications coordinator for the City of Vancouver. "This will have significant implications on our needs for parking and traffic management, and will likely shape the nature of future public investment in transit infrastructure as well."
Vancouver has already undertaken a series of projects to make its busiest thoroughfares more friendly to pedestrians. By transforming roads into public plazas and walkways, the city aims to make it easier to get around on foot or by bike, as well as allowing more space for pop-up stalls and public art installations. Additionally, a bicycle network covering the city will provide access to key destinations such as key shopping centers around Commercial Drive, Main Street, and Broadway.
"The plan is to create compact communities with an emphasis on sustainable economies and transportation options. Providing these areas with convenient public transit is key to our affordable housing strategies," Sandhu says.
Providing alternatives to private car use frees streets up for more communal purposes and allows neighborhoods to be much more densely packed. For this reason, the mayor of Vancouver has initiated a 10-year transit plan that aims to drastically increase the availability of public transport across the city. By utilizing $10 billion in investment to develop new rapid transit lines, buses, and SkyTrain services, the plan seeks to continue enabling more residents to ditch their cars. Whether it works will largely depend on the strength of public support.
"As cities get denser, we're asking people to share more, and, in general, [people] aren't great at sharing," explains Bigazzi. "Cities wanting to develop sustainable transportation systems must prioritize non-car travel and be prepared for opposition to change. But we've seen that when people have the option of convenient public transit they will use it – to their own and the collective benefit."
Vancouver could be set to ditch private cars in a dramatic way. While the city's streets are transformed into plazas and bike lanes, big money is being channeled into the next generation of sustainable public transit. And as neighborhoods become more compact and interconnected, North America's most livable city could also become its coziest — which is no bad thing.