Alan Tudyk Improvised K-2SO's Best Moments in 'Rogue One'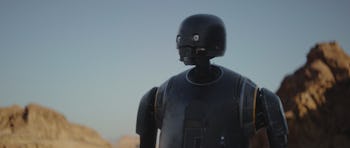 Lucasfilm/The Walt Disney Company
The reprogrammed Imperial droid that stole Star Wars fans' hearts with his special brand of blunt honesty, K-2SO, wouldn't have been nearly as lovably horrible without the mind of Alan Tudyk backing him up. Tudyk, who portrayed K-2SO in Rogue One: A Star Wars Story, answered fan questions on Tuesday during a live chat, revealing that some of the character's most beloved lines were purely ad-libbed.
The official Star Wars Twitter account barraged Tudyk with questions about his time as K-2SO on Tuesday. Twitter user @ProperCheI asked: "what's your favourite K-2SO line in the film?"
Tudyk's said his favorite line is in the moment when Cassian Andor and Jyn Erso have been captured by the Empire. K-2SO takes control of the situation and pretends to be on the side of the Empire, smacking Cassian upside the head and saying, "And there's a fresh one if you mouth off again." That's Tudyk's favorite line, right after an improved slap that, apparently, caused Cassian actor Diego Luna to crack a smile.
Other than the slap, Tudyk's favorite improved line is "after we're all going to go on our last mission, and I say, 'I'll be there for you, Jyn. Cassian said I had to.' I really liked that one."
Now, if only Tudyk could bring K and the gang back to life, everything would be better.