The Highlight of this Year's AUSA Global Conference Is the Robo Tank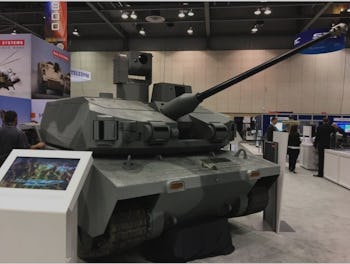 BAE Systems, Inc.
In a convention full of futuristic military technology, the self-driving tank stole the show as soon as it maneuvered itself into a booth in the expo center. The self-driving tank marks a new era of robotic and autonomous military technology.
The Association of the United States Army Global Conference is an annual expo offering military tech and symposiums that runs from March 13-15 in Huntsville, Alabama. The robo-tank, made by British multinational BAE Systems, is called the Armed Robotic Combat Vehicle. The autonomous system hasn't been approved by the military, but was originally developed as part of a futuristic army program. A recent announcement by the army about the adoption of autonomous systems has brought the tank back into the limelight.
The Armed Robotic Combat Vehicle is a modified version of a Bradley tank. The original basis for the technology was the "Future Combat Systems" program that ran from 2003-2009. At the time, the 2006 version of the design was dubbed the "Black Knight." It was sidelined when the program was killed off for being an expensive flop in 2009. However, the army released a strategy brief last week outlining objectives for increased robotic and autonomous military systems. According to the brief, the Robotics and Autonomous Systems strategy has five goals:
"increase situational awareness; lighten the warfighters' physical and cognitive workloads; sustain the force with increased distribution, throughput, and efficiency; facilitate movement and maneuver; and increase force protection."
This new guidance from the army had BAE systems literally rolling out its autonomous tank. The Armed Robotic Combat Vehicle drove into the AUSA expo all by itself. Since 2006, it's had an upgrade of its driving system and body and maneuvers autonomously using LiDAR sensors.
The tank is still reliant on a person to fire and make tactical decisions, and a soldier would have the controls for the robo tank in a nearby vehicle. However, it can drive along all by itself, making it hugely useful in entering situations that are too dangerous for soldiers.
Although the fate of the robo tank isn't yet decided, the army's announcement means that we could see a lot more robotic and autonomous tech in the coming decades. In the future, we could even have the robo tank rolling through areas to check for IED's under the cover of autonomous drone swarms.