Andy Daly is Trying to Make a Dalton Wilcox TV Show
The 'Comedy Bang! Bang!' favorite could make a comeback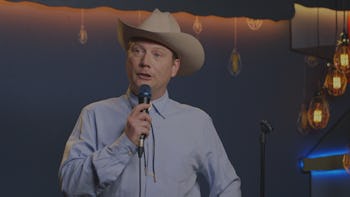 Prepare yourself for some more wit and wisdom from the West.
Andy Daly's cult hit Comedy Central show Review returns for a third and final season next week, and the 45-year-old writer/actor is already planning for his future. First up: a potential show based on a character he has played on Comedy Bang! Bang!, Conan, and his own podcast: Dalton Wilcox.
"I wrote a pilot for an animated show called Dalton Wilcox and the Journeymen, and that was a hell of a lot of fun to write," Daly tells Inverse. "I have no idea whether it's going to end up on television or [somewhere else], but I've just started to talk about how to make that into a reality. And I think fans of my podcast will really love it. It was made for them. If that could be the next project I can work on, that would be a dream come true."
In the world of Comedy Bang! Bang! and Daly's podcast, The Andy Daly Podcast Pilot Project, Wilcox is a rugged, somewhat delusional cowboy character. As the self-styled "Poet Laureate of the West," he spends much of his time telling tall tales and dispensing nuggets of hard-earned wisdom; many he reads from his book, You Must Buy Your Wife at Least as Much Jewelry as You Buy Your Horse and Other Poems and Observations, Humorous and Otherwise, from a Life on the Range. It is exactly 398 pages.
Wilcox had his own episode of Daly's limited run podcast, which was hosted by a new character — each voiced by Daly — in every episode. The show ran for eight episodes in 2014, and it seems unlikely at the moment that it'll return any time soon.
"It's a large time commitment; the reason I was able to do it the first time was that we had shot all of Review, and there were several months until it came out, and there was not much I could do," Daly explains. "I was contractually prevented from doing much other work at that moment. And I haven't exactly had a time like that in my career before."
Though Review is ending, he says he will be using his new free time to line up new gigs, both as a creator and actor, instead of riffing in the Earwolf studios for the many hours the podcast takes.
"Right now I should be figuring out what my next television or film project should be' this is not a moment to say 'Hey, I've got a whole chunk of time with nothing else to do,'" he says. "If a window like that opens up for me again, I think I'd rush to do the podcast, but it's hard to predict when will be the right time."